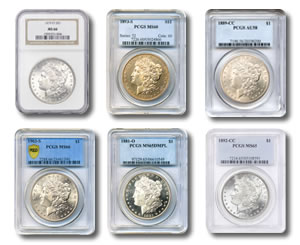 eBay today announced continued efforts to enhance the coins experience on eBay.com that will bring new, exclusive inventory to collectors, in a trusted, appealing way.
Following the success of the recent Presidential Collection of PCGS Registry Lincoln Cents auction, six Professional Numismatists Guild (PNG) member-dealers will offer a select collection of Morgan Dollars on eBay.
The collection of more than 300 Morgan Dollars, valued at more than $1 million, will run from April 19 through April 29, and will offer eBay members a range of inventory from six top coin dealers. Sellers include David Lawrence Rare Coins, Bozarth Numismatic, Lonestar Numismatics, US Coins & Jewelry , SG Rare Coins, and Stuppler & Company.
"The coin industry is extremely dynamic and exciting, and eBay's goal is to continue to offer new ways for collectors to connect with dealers in the most trusted experience possible," said Brooke Segaran, eBay's senior manager of Collectibles. "Exclusive inventory like our Morgan Dollar collection, and certification from industry leaders help eBay bring even more value to our customers."
The full collection can be viewed on eBay's "Morgan Mania" page. All coins being offered as part of the collection have been graded by the Numismatic Guaranty Corporation (NGC) or the Professional Coin Grading Service (PCGS), and many feature the additional Certified Acceptance Corporation (CAC) seal of approval.
Updated eBay Coins Policy
To provide shoppers and sellers with greater confidence in their coins transactions, eBay is also announcing an update to its coins policy.
Starting May 30, all new listings and re-listings in coin categories will need to meet the following requirements:
Listings for coins will be allowed to include a numeric grade in their listing title or item description only if the coin grading company providing the grade meets certain objective standards. Coins that haven't been graded by such companies will be considered raw or ungraded.

For U.S. coins only, grading by companies meeting these standards will now be required for all coins listed with a Buy It Now, reserve, or start price of $2,500 and above.
eBay worked with well-known numismatic authority John Albanese to develop the standards that must be met for grading coins on eBay. Albanese, founder of CAC and Numismatic Consumer Alliance, is considered one of America's leading professional numismatists and noted as one of the world's authorities on coin grading and the rare coin market.
The standards companies must meet under this revised coins policy are as follows:
At least 50,000 coins graded (pre-1956)

Live, online population report

At least 3 graders on staff who are considered numismatic experts (an individual who has been a full-time numismatist for at least five years). At least one of the graders should be a member of PNG, and all three should be members of the American Numismatic Association (ANA)

Stated buyback guaranty in writing for coins later determined to be counterfeit, damaged, over- or mis-graded, or mis-attributed

Coins being slabbed must be kept in a unique, state-of-the-art, tamper-resistant holder with anti-counterfeiting measures (e.g.; holograms). Archival materials should be used wherever possible

Enable online verification of unique serial numbers
Currently, only Numismatic Guaranty Corporation and the Professional Coin Grading Service meet these standards.  However, other grading companies that meet these standards are encouraged to contact eBay.
eBay will attend the Central States Coin Show on April 17 to offer more information about eBay Coins, exclusive collections and policies.
About eBay Inc.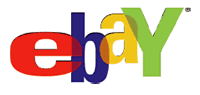 Founded in 1995 in San Jose, Calif., eBay Inc. (NASDAQ:EBAY) is a global commerce platform and payments leader connecting millions of buyers and sellers. We do so through eBay, the world's largest online marketplace, which allows users to buy and sell in nearly every country on earth; through PayPal, which enables individuals and businesses to securely, easily and quickly send and receive digital payments; and through GSI, which facilitates ecommerce, multichannel retailing and digital marketing for global enterprises. X.commerce brings together the technology assets and developer communities of eBay, PayPal and Magento, an ecommerce platform, to support eBay Inc.'s mission of enabling commerce.
We also reach millions through specialized marketplaces such as StubHub, the world's largest ticket marketplace, and eBay classifieds sites, which together have a presence in more than 1,000 cities around the world. For more information about the company and its global portfolio of online brands, visit www.ebayinc.com.