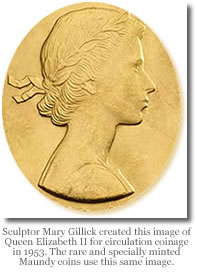 Marking the Holy Thursday before Easter, Queen Elizabeth II handed out Royal Maundy Coins at the service that was held at York Minister, located about 200 miles from London.
Since the monarch's age, 86, is used to determine how many individuals are selected for the service to receive the special coins, commonly referred to as "Maundy Money," 86 women and 86 men were gifted money in recognition of their services to the Church and their communities.
Normally, the recipients are from just one diocese, but this year they were chosen from all over the UK's 44 Christian dioceses to commemorate The Queen's Diamond Jubilee, a celebration that marks her 60 years as Monarch.
172 recipients were given two purses, one red and the other white. The red purses included a £5 coin commemorating The Queen's Diamond Jubilee and a newly minted 50p coin. The white purses contained one, two, three and four penny pieces, the Maundy coins, which were specially minted in sterling silver (92.5%) and added up to the Queen's age.
Despite the few changes of the effigy of Queen Elizabeth II on ordinary British circulating coins, the Maundy coins bear the portrait of Queen Elizabeth II by Mary Gillick used on coins that were issued in 1953, the year of the Queen's coronation.
The word Maundy is derived from Christ's commandment or "mandatum" given at the Last Supper to love one another. The traditional Royal Maundy Service is held on Maundy Thursday. The ceremonies involving the Royal Family date back to at least the 13th century.
A short video courtesy of The Telegraph shows raw footage of the Queen during the traditional Royal Maundy Service.