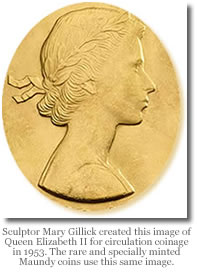 In keeping with yearly tradition to mark Holy Thursday before Easter, Queen Elizabeth II handed out rare coins during the Royal Maundy Service that was held this year in Bury St Edmunds Cathedral, Suffolk.
Custom dictates that a monarch's age is to be used to determine how many individuals are selected for the service to receive special coins, commonly referred to as "Maundy Money."
The Queen gave a white and red purse of coins to 83 women and 83 men.
The red purse contained £5 coin celebrating the 500th anniversary of the Accession of Henry VIII and a 50p coin to celebrate the founding of Royal Botanic Kew Gardens. The white purse contained rare 83p Maundy coins, which were specially minted sterling silver (92.5%).
The coins are uniquely designed and specially minted each year for the ceremony. The effigy of Queen Elizabeth II on coins has seen four changes through the Queens' reign. The Maundy coins bear Her Majesty's portrait (by Sculptor Mary Gillick) struck on coins first issued in the year of her 1953 coronation.
The word Maundy is derived from Christ's commandment or "mandatum" given at the Last Supper to love one another. The Royal Maundy service dates back to at least the 12th century.
Last year's royal service was the first ever in Ireland — only two have been recorded to occur outside of England. This year's service was a special occasion for Kathleen Grimwood. Grimwood is 107 and very likely the oldest person to receive Maundy Money from a monarch, according to Buckingham Palace.