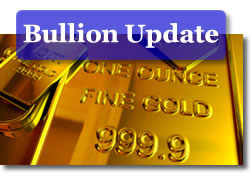 Gold prices advanced Friday, snapping a three-session losing streak to log weekly and quarterly gains of 0.6% and 6.7%, respectively.
Gold did retreat 2.3% for the month but the pick-up on the quarter contrasts against a 3.4% loss in the fourth quarter of 2011 when a streak of 12 straight quarterly gains ended.
On Friday, June gold prices tacked on $17.00, or 1.0%, to $1,671.90 an ounce on the Comex in New York. Gold traded between an intraday low of $1,661.20 and a high of $1,672.70. For much of the week, the yellow metal traded opposite to the U.S. dollar.
Gold Prices Expected Higher Next Week
In the latest weekly gold surveys, majority participants expect higher gold prices next week as was the case for forecasts this week.
In the Kitco News Gold Survey, out of 32 participants, 22 responded this week. Of those 22 participants, 13 see prices up, while six see prices down, and three are neutral," reports Kitco.

"Several of those looking for higher prices next week cited technical chart factors… Those who see weaker prices said the continued lack of physical demand is putting weight on prices. The Indian jeweler strike persists and Chinese buying has been lackluster, analysts said. Further, with…"
In a Bloomberg survey, 9 of 18 analysts expect higher gold prices. 6 are bearish and 3 are neutral.
Silver, Platinum and Palladium Futures
Silver and platinum are the two best performing precious metals so far this year. Platinum gained 17.0% on the quarter with the white metal on its heels at 16.4%. Silver dropped from the leading position due to a poor month in which prices fell 6.2% as compared to platinum's slimmer 2.9% monthly loss.
On Friday, silver prices for May delivery rallied 49.2 cents, or 1.5%, to $32.484 an ounce while platinum prices for July added $15.80, or 1.0%, to $1,644.10 an ounce. Like gold, both metals advanced on the week with silver up 0.7% and platinum rising 1.0%.
Rounding out the precious metals, palladium prices for June delivery climbed $9.55, or 1.5%, to $654.10 an ounce. Palladium has the distinction of being the lone precious metal with a weekly and quarterly loss. It is down 0.9% from last Friday and it lost 0.3% for the quarter. The noble metal also declined the most this month at 7.7%.
London Precious Metals
London precious metals were mixed with very modest movements Friday except for silver. When comparing the most recent London PM fixings:
Gold prices gained $5.00, or 0.3%, to $1,662.50 an ounce,
Silver prices advanced 64.0 cents, or 2.0%, to $32.43 an ounce,
Platinum declined $1.00, or 0.1%, to $1,640.00 an ounce, and
Palladium was off $2.00, or 0.3%, to $651.00 an ounce
For the week, gold prices dipped 0.1%, silver prices added 2.8%, platinum lost 1.4% and palladium declined 1.1%.
Like New York precious metals futures prices, London metals declined for the month. March losses were 6.1% for gold, 12.9% for silver, 5.0% for platinum and 9.8% for palladium.
For first quarter 2012, gold gained 5.6%, silver prices surged 15.1%, platinum rallied 18.8% and palladium added 2.4%.
U.S. Mint Bullion Coins
In weekly U.S. Mint bullion sales, gold bullion coins were in higher demand. Buyers ordered a total of 22,000 ounces versus the previous week's 16,500 ounces. On Wednesday, the U.S. Mint sold 17,000 of its one ounce American Gold Eagles. That alone accounted for more than any weekly total from this month.
Demand retreated for silver bullion coins, however, as 405,000 were purchased this week against the 490,000 previously.
The following are the most recent daily, March and year-to-date bullion coin totals as provided by the U.S. Mint. While the bureau has not officially closed out the month of March and it is not expected to do so until Monday, the below monthly figures are not likely to change.
Sales of U.S. Mint American Eagle and Buffalo Bullion Coins
Daily Gains
Prior Weekly
Weekly Gains
March Gains
YTD 2012
American Gold Eagles (1 oz.)
0
9,500
18,000
57,500
162,000
American Gold Eagles (1/2 oz.)
0
2,000
0
2,000
51,000
American Gold Eagles (1/4 oz.)
0
0
0
0
40,000
American Gold Eagles (1/10 oz.)
0
15,000
10,000
40,000
130,000
American Gold Buffalo Coin (1 oz.)
0
4,500
3,000
26,000
46,500
American Silver Eagles
100,000
490,000
405,000
2,542,000
10,139,000
Sales of America the Beautiful 5 Oz. Bullion Silver Coins
Prior Weekly
Weekly Gains
All-Time Total
Olympic National Park 5 oz. Silver Coins
0
200
85,100
Vicksburg National Military Park 5 oz. Silver Coins
0
200
38,300
Chickasaw Park 5 oz. Silver Coins
0
0
28,700
TOTAL
0
400
152,100
All bullion sales in the above tables are in number of coins sold, not in the amount of ounces sold. The U.S. Mint has not sold five ounce bullion silver coins since Monday, March 26.