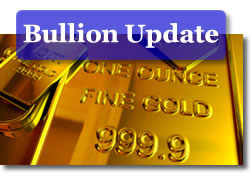 Gold fell Wednesday for a second consecutive day as a stronger U.S. dollar made it and other precious metals less attractive. April gold prices shed $27.00, or 1.6%, to settle at $1,657.90 an ounce on the Comex in New York. Gold touched intraday low and high prices of $1,654.00 and $1,684.50, respectively.
"The gold market may have been expecting that real rates would soon be rising along with improving economic growth, leading to a sharp decline in net speculative length in gold futures," Goldman Sachs said in a report on Wednesday, according to Reuters.

"As we look forward, our U.S. economists forecast subdued growth and further easing by the Fed in 2012, which should push the market's expectations of real rates back down near zero basis points and gold prices back to our six-month forecast of $1,840 an ounce."
Silver prices for May delivery lost 69.1 cents, or 2.1%, to $31.925 an ounce, moving between $31.765 and $32.685. Jim Wyckoff of Kitco News writes about the near-term technical aspects for silver in the Wednesday Kitco Metals Roundup:
"May silver futures prices closed nearer the session low Wednesday. Silver bears have the near-term technical advantage. Bulls' next upside price breakout objective is closing prices above solid technical resistance at this week's high of $33.19 an ounce.

The next downside price breakout objective for the bears is closing prices below solid technical support at last week's low of $31.09. First resistance is seen at $32.00 and then at $32.50. Next support is seen at Wednesday's low of $31.765 and then at $31.50. Wyckoff's Market Rating: 4.0."
Platinum prices for April delivery declined $22.30, or 1.3%, to settle at $1,635.20 an ounce, trading between $1,630.80 and $1,656.80.
Palladium prices for June delivery fell $15.65, or 2.4%, to close at $647.35 an ounce, ranging from $644.35 to $659.50.
London Precious Metals
London precious metals were also lower across the board. When comparing the most recent London PM fixings:
Gold declined $16.00, or 0.9%, to $1,676.00 an ounce,
Silver lost 58.0 cents, or 1.8%, to $32.43 an ounce,
Platinum fell $20.00, or 1.2%, to $1,642.00 an ounce, and
Palladium retreated $16.00, or 2.4%, to $651.00 an ounce
U.S. Mint Bullion Coins
Demand for U.S. Mint gold coins jumped Wednesday after two straight days of inactivity. The bureau sold 20,000 ounces of bullion gold coins to its authorized purchasers, an amount that is higher than each of the two previous week's totals. Advancing the most at 17,000 was the one ounce, 22-karat American Gold Eagle. The 24-karat American Gold Buffalo added 3,000.
The U.S. Mint reported no increases for its bullion silver coins which had climbed for three consecutive days.
The following are the most recent daily, monthly and year-to-date bullion coin totals as provided by the U.S. Mint.
Sales of U.S. Mint American Eagle and Buffalo Bullion Coins
Daily Gains
March Gains
YTD 2012
American Gold Eagles (1 oz.)
17,000
56,500
161,000
American Gold Eagles (1/2 oz.)
0
2,000
51,000
American Gold Eagles (1/4 oz.)
0
0
40,000
American Gold Eagles (1/10 oz.)
0
30,000
120,000
American Gold Buffalo Coin (1 oz.)
3,000
26,000
46,500
American Silver Eagles
0
2,412,000
10,009,000
Sales of America the Beautiful 5 Oz. Bullion Silver Coins
Prior Weekly
Weekly Gains
All-Time Total
Olympic National Park 5 oz. Silver Coins
0
200
85,100
Vicksburg National Military Park 5 oz. Silver Coins
0
200
38,300
Chickasaw Park 5 oz. Silver Coins
0
0
28,700
TOTAL
0
400
151,700
All bullion sales in the above tables are in number of coins sold, not in the amount of ounces sold. The U.S. Mint has not sold five ounce bullion silver coins since Monday, March 26.