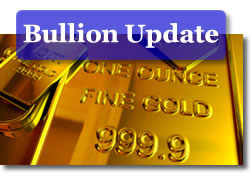 Gold prices fell below $1,700 an ounce and to a six-week low Tuesday as commodity markets, stocks and other riskier bets were shunned by investors.
"People who are long gold are getting out. They don't like what's going on with Greece and the stock market is decisively lower. It's a matter of raising money," Reuters quoted Jonathan Jossen, COMEX gold options floor trader. "But the bullish option flow usually tells me we could be near a bottom," Jossen said.
U.S. stocks fell sharply Tuesday as the Dow suffered through a more than 200 point fall for its biggest one-day decline this year.
Gold prices ended down $31.80, or 1.9%, to $1,672.10 an ounce in the April futures contract on the Comex in New York. The settlement price was gold's lowest since January 24. Gold prices moved from an intraday low of $1,663.40 to a high of $1,709.80.
"[Monday] showed clearly that there is still a correlation between gold and risky assets such as equities and industrial commodities," analysts at Commerzbank said, according to MarketWatch. "This is probably due to investors with a short-term horizon selling long positions on the futures market."
Silver prices for May delivery dropped 91.2 cents, or 2.7%, to $32.783 an ounce, trading between $32.490 and $34.205.
Platinum prices for April delivery settled down $50.70, or 3.0%, to $1,611.90 an ounce, ranging from $1,606.00 to $1,671.90.
Palladium prices for June delivery plunged $35.35, or 5.0%, to $671.60 an ounce, ranging from $670.00 to $710.00.
London Precious Metals
Earlier fixed London precious metals were sharply lower as well. When comparing the London PM fixings from Monday to Tuesday, gold prices declined $36.00 to $1,669.00 an ounce, silver fell 96.0 cents to $33.22 an ounce, platinum lost $58.00 to $1,614.00 an ounce, and palladium plummeted $36.00 to $673.00 an ounce.
U.S. Mint Bullion Coins
Marking a seventh straight daily gain, sales of the American Silver Eagle bullion coin advanced 240,000 on Tuesday. That lifted its March total to 695,000 for 46.6% of the amount reached in all of February. Also advancing on the day was the American Gold Buffalo bullion coin, up 4,000. Its March sales total now matches the 7,000 sold last month.
The following are the most recent daily, weekly, monthly and year-to-date bullion sales figures as published by the U.S. Mint.
Sales of U.S. Mint American Eagle and Buffalo Bullion Coins
Daily Gains
March Gains
YTD 2012
American Gold Eagles (1 oz.)
0
8,500
113,000
American Gold Eagles (1/2 oz.)
0
0
49,000
American Gold Eagles (1/4 oz.)
0
0
40,000
American Gold Eagles (1/10 oz.)
0
0
90,000
American Gold Buffalo Coin (1 oz.)
4,000
7,000
27,500
American Silver Eagles
240,000
695,000
8,292,000
Sales of America the Beautiful 5 Oz. Silver Bullion Coins
Prior Weekly
Weekly Gains
All-Time Total
Olympic National Park 5 oz. Silver Coin
0
0
84,600
Vicksburg National Military Park 5 oz. Silver Coin
0
0
37,300
Chickasaw Park 5 oz. Silver Coin
0
300
28,400
TOTAL
0
0
150,300
All bullion coin totals in the above tables are in the number of coins sold, not in the amount of ounces. The U.S. Mint rarely publishes daily sales figures for its biggest five-ounce silver coins. These latest sales are as of Monday, February 27, 2012.