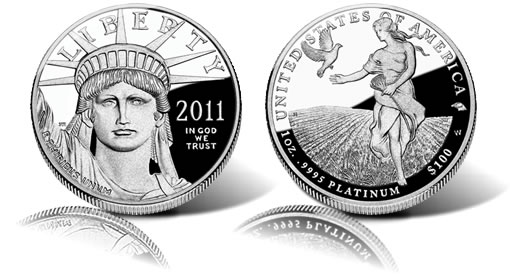 A series of price increases is expected Wednesday for numismatic American Eagles and First Spouse Gold Coins, per recent trends of precious metals on the London Fix. For the same reason, Star-Spangled Banner products released next Monday are likely to cost a bit more than anticipated.
[Update: The U.S. Mint on Wednesday did indeed raise prices on platinum and gold coins. The latest prices are in the table below.]
Each week on Wednesday morning, prices are re-evaluated for United States Mint coins composed of gold and platinum. The price on the proof Platinum Eagle and numismatic gold coins has remained the same for four straight weeks. But precious metals have swung sharply higher in recent days, and coin prices should shoot up as a result.
The London Fix average for gold has moved into the $1,750.00 to $1,799.99 per ounce range. In a similar fashion, platinum has catapulted to between $1,650.00 and $1,749.99 per ounce. These higher levels call for higher coin prices, according to U.S. Mint pricing policy — as long as Wednesday's upcoming PM fixings agree. In short:
If the London gold PM Fix is $1,750.00 or higher, then prices will rise for all U.S. Mint numismatic gold coins
If the London platinum PM Fix is $1,650.00 or more, then the price for the proof Platinum Eagle will climb $100
As of this writing, the spot prices for gold and platinum are at $1,786 and $1,721, respectively. Hence, both metals would need to free fall overnight to prevent the following expected price increases.
Likely US Mint Prices for American Eagles and First Spouse Coins
| U.S. Mint Product | Current Prices | Likely Prices | Price Increase |
| --- | --- | --- | --- |
| Uncirculated First Spouse Coins | $1,016.00 | $1,041.00 | $25.00 |
| Proof First Spouse Coins | $1,029.00 | $1,054.00 | $25.00 |
| American Gold Buffalo | $2,010.00 | $2,060.00 | $50.00 |
| 1/10 oz Proof Gold American Eagles | $220.50 | $225.50 | $5.00 |
| Proof Gold American Eagle 4-Coin Set | $3,678.00 | $3,770.50 | $92.50 |
| Proof Platinum American Eagles | $1,892.00 | $1,992.00 | $100 |
Once the United States Mint decides to adjust coin prices, it will typically halt online ordering of the affected products for 30-60 minutes. The process usually begins between 11:00 a.m. and 12:00 p.m. ET on Wednesday.
Expected Prices for Commemorative Star-Spangled Banner Products
On Monday, March 5, the United States Mint will release the new commemorative Star-Spangled Banner products which include two silver dollars, two $5 gold coins and a two-coin proof set. (Read the earlier CoinNews.net article for the latest information on their release.)
The $5 gold coins and two-coin proof set also rely on a coin pricing system based on the London Fix for gold. The following table shows what the upcoming commemorative products would have been priced at today had they launched and what they are expected to be priced at on their actual release date as a result gold's recent gains.
| Star-Spangled Banner Products | Prices if Coins Launched Today | Expected Prices on Launch Date | Price Difference |
| --- | --- | --- | --- |
| Proof $5 Coin | $517.15 | $529.30 | $12.15 |
| Uncirculated $5 Coin | $507.15 | $519.30 | $12.15 |
| Two-Coin Proof Set (Proof $5 Gold and Proof Silver Dollar) | $567.15 | $579.30 | $12.15 |
Prices for investment-grade U.S. Mint bullion coins differ from the numismatic versions as bullion coin prices change daily based on the latest value of the precious metal they contain.