A new "2012 Birth Set" was revealed by the United States Mint Thursday when the bureau updated its product schedule with several upcoming releases. The U.S. Mint has since published a product page for the Birth Set which is currently targeted with a release date of March 13.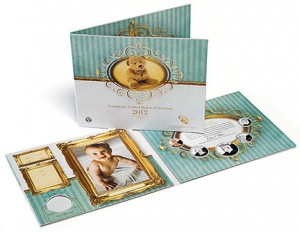 Mints around world are no stranger to having their products purchased for eventful occasions, or as gifts and marketing them for use as such. Many of them have specifically designed products for gift-giving and special occasions, as the U.S. Mint now does with the Birth Set.
"A precious memento to mark the arrival of a newborn baby in 2012, is the first Birth Set issued by the United States Mint," the new product page states.
This year's Birth Set features a newborn-themed card which is designed to hold a baby photograph, a lock of baby's hair, and five proof coins minted in San Francisco, including:
a 2012-S Lincoln cent,
a 2012-S Jefferson nickel,
a 2012-S Roosevelt dime,
the first quarter of the year, which is the 2012-S El Yunque National Forest Quarter honoring the site located in Puerto Rico, and a
2012-S Kennedy half-dollar
As proof coins, each will feature the "S" mint mark and sport sharp reliefs with mirror-like backgrounds, which is unlike circulating coins that do not have the special finish and are produced in either Denver or Philadelphia with corresponding "D" and "P" mint marks.
US Order and Pricing Details
The specially designed set has a listed price of $19.95. Beginning at 12:00 Noon ET on March 13, it will be available directly from the U.S. Mint website, www.usmint.gov, or by calling 1-800-USA-MINT (872-6468).
Other World Mint Products for Newborns
Newborn branded products from other world mints include UK Royal Mint (www.royalmint.com) products:
Baby Gift Set for £35.00,
My First Coins Gift Pack for £25.00 and
The Baby Collection Deluxe Edition for £49.00
The Perth Mint (www.perthmint.com.au) offers:
the Australian Baby Uncirculated Coin Set for $40.91,
the Baby Dragon $1 Coin and Card for $14.50, and the
Silver Koala Baby Coin Pack for $52.27
Finally, the Royal Canadian Mint (www.mint.ca) has its own Baby Gift Set for $19.95.