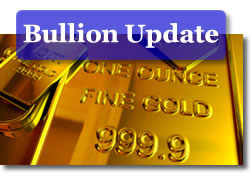 Gold advanced modestly Wednesday in kicking-off the first trading day in February. The increase marked a second straight day of gains and came on the heels of a weaker U.S. dollar.
Gold prices rose $9.10, or 0.5%, to $1,749.50 an ounce in the April futures contract on the Comex in New York. Gold touched an intraday low of $1,735.40 and reached a high of $1,754.00.
"Gold has been up for weeks. It is probably a stretch now and ripe for some profit taking, but the technical and fundamental factors are not signaling a reversal yet," Reuters quoted George Gero, vice president of RBC Capital Markets.
Gold prices rallied 11.2% in January. Silver was the best performing precious metal for the month with its gain of 19.2%.
As for Wednesday, silver prices for March delivery settled up 54.5 cents, or 1.6%, to $33.807 an ounce, trading between $33.070 and $34.000.
Platinum prices for April delivery jumped $35.10, or 2.2%, to $1,623.20 an ounce, ranging from $1,588.50 to $1,628.00. Palladium prices for March delivery gained $10.35, or 1.5%, to $696.70 an ounce, trading between $684.05 and $698.10.
For January, platinum advanced 13.0% while palladium added 4.6%.
London Precious Metals
London precious metals were mixed on the day. In comparing London PM fixings between Tuesday and Wednesday, gold dipped $4.00 to $1,740.00 an ounce, silver added 20.0 cents to $33.80 an ounce, platinum declined $13.00 to $1,611.00 an ounce and palladium advanced $3.00 to $695.00 an ounce.
U.S. Mint Bullion Coins
U.S. Mint bullion coin sales levels were unchanged Wednesday as of 4:05 PM ET. Check the following tables for the most recent sales.
Sales of U.S. Mint American Eagle and Buffalo Bullion Coins
Daily Gains
YTD 2012
American Gold Eagle Coin (1 oz.)
0
84,500
American Gold Eagle Coin (1/2 oz.)
0
49,000
American Gold Eagle Coin (1/4 oz.)
0
38,000
American Gold Eagle Coin (1/10 oz.)
0
85,000
American Gold Buffalo Coin (1 oz.)
0
13,500
American Silver Eagles
0
6,107,000
For an analysis of the silver bullion coin performance in January, read this Silver Coins Today article about Silver Eagle sales.
Sales of America the Beautiful 5 Oz. Silver Bullion Coins
Prior Weekly
Weekly Gains
All-Time Total
Olympic National Park 5 oz. Silver Coin
0
0
84,600
Vicksburg National Military Park 5 oz. Silver Coin
1,000
0
37,300
Chickasaw Park 5 oz. Silver Coin
700
0
28,100
TOTAL
1,700
0
150,000
All bullion coin totals in the above tables are in the number of coins sold, not the amount of ounces. The U.S. Mint does not publish daily sales figures for its five-ounce silver coins. The latest five-ounce sales were provided on Friday, January 27, 2012.