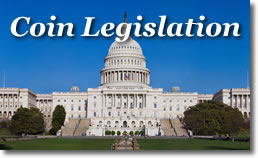 Newly re-introduced legislation in the House of Representatives would commemorate the battlefields of the Revolutionary War and the War of 1812 with up to 300,000 $5 gold coins, 1 million silver dollars and 2 million half dollars.
Proposed in one form or another in successive sessions of Congress since 2004, Rep. Rush Holt [D-NJ12] intends to give another shot at passage with a fifth version of the Revolutionary War and War of 1812 Battlefields Commemorative Coin Act. The Act, numbered H.R. 3818, was repackaged by adding the year 2012 and presented to the House for consideration on January 24, 2012.
Commemorative Coin Designs
As is often the case, coin designs are left broadly open to U.S. Mint artists. The bill's language simply states they must be emblematic of the Revolutionary War and the War of 1812. Multiple coin designs would be created, reviewed by the Citizens Coinage Advisory Committee (CCAC) and then selected by the Treasury Secretary after consulting with the Commission of Fine Arts (CFA) and the Revolutionary War and the War of 1812 Battlefields Foundation.
Surcharges
The foundation would be the recipient of commemorative coin surcharges in the amount of $35 for each $5 gold coin, $10 per silver dollar and $3 for each half dollar. H.R. 3818 indicates those surcharges must be used to preserve "historically significant battlefields" and sites related to the wars.
Commemorative Coin Specifications
Coin specifications outlined in the legislation are typical for commemoratives. The bill moved up the coins' date and issuance to calendar year 2013, which will be at least one obstacle unless changed. Congress is limited to two commemorative coins for any year, and two have already been authorized for 2013 through the Girl Scouts USA Centennial Commemorative Coin Act and the Five Star Generals Commemorative Coin Act.
Other specifications require that:
The gold pieces would weigh 8.359 grams, have a diameter of 0.850 inches and a composition of 90% gold and 10% alloy.

Each silver dollar would weigh 26.73 grams, have a diameter of 1.500 inches and contain 90% silver and 10% copper.

Half dollars would weigh 11.34 grams, have a diameter of 1.205 inches and feature a composition of 8.33 percent nickel with the remaining balance in copper.
Common inscription elements would include the words "Liberty," "In God We Trust," "United States of America," and "E Pluribus Unum." Each of the coins would be produced in both proof and uncirculated qualities for collectors.
Status of H.R. 3818
The Revolutionary War and War of 1812 Battlefields Commemorative Coin Act currently has no cosponsors and had been referred to the House Committee on Financial Services.
For any coin legislation to become law, it must pass in the House, Senate and win the President's signature.
In commemorative coins for this year, the United States Mint will be issuing 2012 Infantry Soldier Silver Dollars (see designs) and 2012 Star-Spangled Banner coins in gold and silver (see designs).