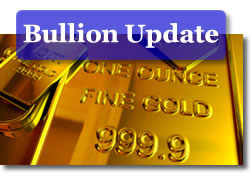 Gold prices climbed for a third straight session Thursday as weakness in the U.S. dollar spurred buying. The yellow metal did achieve a four-week high earlier in the day but fell just below the level in later trading.
"The dollar appears to have peaked last week and people are buying gold as a hedge," MarketWatch quoted Mike Smith, president of T&K Futures and Options.
For a second straight day, gold prices rose by exactly $8.10 or 0.5%. The February gold futures contract on the Comex in New York closed at $1,647.70 an ounce, with trades occurring between $1,640.90 and $1,662.90.
Both metals (gold and silver) are in the midst of an upward push which might carry them to the $1,700 and $32 areas respectively, before their downtrends resume," noted Jon Nadler, Senior Analyst at Kitco Metals Inc.
Silver prices for March delivery ended up 23.4 cents, or 0.8%, to $30.124 an ounce. Silver prices traversed from an intraday low of $29.870 to a high of $30.675.
Platinum prices for April delivery edged up $2.40, or 0.2%, to $1,500.10 an ounce, trading between $1,491.20 and $1,512.50.
Palladium bucked the trend. Palladium prices for March delivery declined $4.40, or 0.7%, to $641.25 an ounce, ranging from $633.25 to $649.00.
London Precious Metals
London precious metals advanced as a group. When comparing the London fixings on Thursday (PM) from those on Wednesday (PM), gold gained $26.50 to $1,661.00 an ounce, silver prices advanced 77.0 cents to $30.58 an ounce, platinum edged up $9.00 to $1,498.00 an ounce and palladium gained $7.00 to $645.00 an ounce.
U.S. Mint Bullion Coins – Silver Eagles Maintain Rally
U.S. Mint bullion Silver Eagles continue to rally higher, rising 340,000 on the day to lift their January total to 4,597,000. That placed monthly sales as second all-time best, dating back to the series debut in November 1986. The only month better was January 2011 when Silver Eagles scored total sales of 6,422,000.
In bullion gold coins, both the one ounce and one-half ounce Gold Eagles advanced. Across all sizes, the U.S. Mint has shipped a total of 85,500 ounces which is the highest since September. Rising Thursday as well was the Gold Buffalo, up 500 to 8,000 for the month.
The latest daily and year-to-date sales figures for U.S. Mint bullion coins follow:
Sales of U.S. Mint American Eagle and Buffalo Bullion Coins
Daily Gains
January/YTD 2012
American Gold Eagle Coin (1 oz.)
2,500
61,500
American Gold Eagle Coin (1/2 oz.)
1,000
18,000
American Gold Eagle Coin (1/4 oz.)
0
30,000
American Gold Eagle Coin (1/10 oz.)
0
75,000
American Gold Buffalo Coin (1 oz.)
500
8,000
Silver Eagles
340,000
4,597,000
Sales of America the Beautiful 5 Oz. Silver Bullion Coins
Weekly Gains
Total
Olympic National Park 5 oz. Silver Coin
500
84,600
Vicksburg National Military Park 5 oz. Silver Coin
0
34,300
Chickasaw Park 5 oz. Silver Coin
0
26,900
TOTAL
500
145,800
All bullion coin totals in the above tables are in the number of coins sold, not the amount of ounces. The U.S. Mint does not always provide daily sales for its 5-ounce silver coins. Those figures are current as of Monday, January 9, 2012.