United States Mint price reductions are likely in store Wednesday, December 21, for certain platinum and gold coins, based on the bureau's pricing policy for its collectible precious metals products.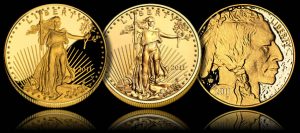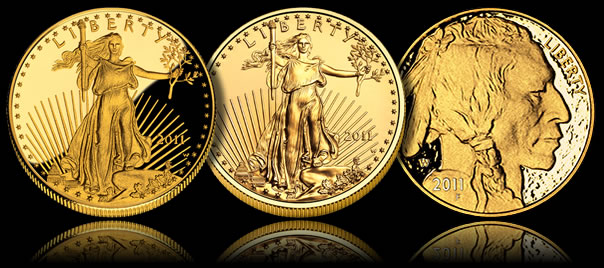 The Mint just trimmed gold coin prices on Wednesday, December 14, when the yellow metal's weekly average dropped between $1,650.00 and $1,699.99 an ounce.
Although gold rebounded Tuesday morning — sustained above $1,600 an ounce for the first time in five days, the metals plunged last week and losses continued into Monday. The free fall was to such a degree that prices on more than a dozen gold coins could drop by two tier levels instead of one. Precious metals prices in the London AM and PM Wednesday fixings will be the determining factors.
[Update: The U.S. Mint updated prices a bit later than normal, finishing the process about 1:40 PM ET. The new coin prices are shown in the "Tier 2" column below, representing the more significant cuts.]
The bottom line… a $100 price cut seems most likely for the 2011 Proof American Platinum Eagle and cuts for gold coins should range:
At least from $5 to $92.50 as long as the Wednesday PM fix stays below $1,700 an ounce (see Tier 1 column below for per coin price cuts)

As much as $10 to $185 if the Wednesday AM fixing is under $1,642.96 an ounce and the PM fix is below $1,650 an ounce (see Tier 2 column below for per coin price cuts)
Current and possible prices for the Mint's gold coins are outlined in the following table:
Current and Two Possible Tiers of Gold Coin Price Reductions
| | | | |
| --- | --- | --- | --- |
| US Mint Gold Coins | Current Price | Price Tier 1 | Price Tier 2 |
| Uncirculated First Spouse Coins | $991.00 | $966.00 | $941.00 |
| Proof First Spouse Coins | $1,004.00 | $979.00 | $954.00 |
| American Gold Buffalo | $1,960.00 | $1,910.00 | $1,860.00 |
| 1 oz Uncirculated Gold Eagle | $1,928.00 | $1,878.00 | $1,828.00 |
| 1/2 oz Proof Gold Eagle | $981.00 | $956.00 | $931.00 |
| 1/4 oz Proof Gold Eagle | $503.00 | $490.50 | $478.00 |
| 1/10 oz Proof Gold Eagle | $215.50 | $210.50 | $205.50 |
| Proof Gold Eagle 4-Coin Set | $3,585.50 | $3,493.00 | $3,400.50 |
Notes:
To determine coin prices, the United States Mint tabulates daily London fixings from the previous Thursday to the following Wednesday, calculates their average and then checks where that average falls within a pre-defined pricing range. The PM fixing on Wednesday is used as a directional indicator that can trigger or stop adjustments.

Price Tier 1 represents a range based on a gold average of between $1,600.00 and $1,649.99 an ounce. Price Tier 2 indicates a range of between $1,550.00 and $1,599.99 an ounce.

The uncirculated and proof First Spouse Gold Coins currently for sale by the United States Mint honor Lucretia Garfield, Lucy Hayes, Julia Grant and Eliza Johnson.
The current $1,792.00 price for the 2011-W Proof American Platinum Eagle is based on platinum within $1,450.00 to $1,549.99 an ounce. Unless the PM fixing on Wednesday stays above $1,450.00 an ounce, the Platinum Eagle's price will move to $1,692.00. The metal's spot price has jumped $21 to $1,429 an ounce as of this writing.
When the United States Mint adjusts collector platinum and gold coin prices, it normally halts online ordering for the affected products until all changes are made and tested. The process usually begins between 11:00 a.m. and 12:00 p.m. ET on Wednesday and lasts for about 30-60 minutes.
CoinNews.net's U.S. & World Coins page offers information and specifications for each of the coins listed above.