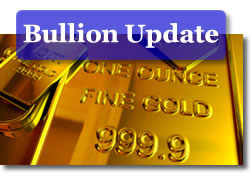 Gold advanced nearly $21 Tuesday as prices closed above $1,600 an ounce for the first time since one week ago. Bargain hunting coupled with a rising euro and falling U.S. dollar were among the reasons analysts cited for the gains.
Gold prices are higher "due to dollar weakness and it is likely that some traders have viewed the recent selloff as excessive and are tentatively re-entering the gold market," MarketWatch quoted Mark O'Byrne, executive director at GoldCore. "Bullion demand remains robust in Europe and appears to be picking up in Asia again and this will likely support prices at these levels."
Gold prices rose $20.90, or 1.3%, to $1,617.60 an ounce in the February futures contract on the Comex in New York. In thin, pre-holiday trading, gold moved from a low of $1,594.10 to a high of $1,620.80.
"Profit-taking and year-end book squaring by large investors, including mutual funds and macro hedge funds … help explain the recent drop in prices," said HSBC in a note relayed via Reuters. "Gold prices may stay weak but volatile for the rest of this year, we believe, as trading volume is likely to dry up in the run-up to the year-end holidays."
Silver prices for March delivery advanced 66.2 cents, or 2.3%, to $29.536 an ounce. Silver touched an intraday low of $28.695 and reached as high as $29.625.  Jim Wyckoff of Kitco Metals Inc. writes in the Tuesday Kitco Roundup about silver's near-term technicals:
"March silver futures prices closed near the session high Tuesday on short covering and bargain hunting. Near-term technical damage has been inflicted recently.

Silver prices are still in a six-week-old downtrend on the daily bar chart. Bulls' next upside price breakout objective is closing prices above solid technical resistance at $31.00 an ounce.

The next downside price breakout objective for the bears is closing prices below major technical support at the September low of $26.185. First resistance is seen at $30.00 and then at $30.50. Next support is seen at $29.00 and then at Tuesday's low of $28.695. Wyckoff's Market Rating: 3.5."
Platinum prices for January delivery gained $19.30, or 1.4%, to $1,432.90 an ounce, trading between $1,407.60 and $1,437.00.
Palladium prices for March delivery tacked on $10.90, or 1.8%, to $628.60 an ounce, ranging between $610.25 and $630.15.
London Precious Metals
With the exception of palladium, London precious metals also headed higher. When comparing London fixings on Tuesday from those on Monday (PM to PM), gold prices gained $15.50 to $1,613.50 an ounce, silver added 50.0 cents to $29.28 an ounce, platinum edged up $6.00 to $1,425.00 an ounce and palladium declined $7.00 to $620.00 an ounce.
U.S. Mint Bullion Coins
U.S. Mint published bullion coin gains were limited Tuesday to the Gold Buffalo. It rose 1,500 after a previous 2,000 increase was reported following the release of Monday's bullion update. The 24-karat gold coins have advanced in eleven of the last twelve days.
While not rising Tuesday, the Mint's silver bullion coins climbed later Monday as well. The Silver Eagles added 350,000 and the five ounce America the Beautiful Silver Bullion Coins added 1,000.
The latest daily, monthly, and year-to-date U.S. Mint bullion coin sales follow:
Sales of U.S. Mint American Eagle and Buffalo Bullion Coins
Daily Gains
December Gains
YTD 2011
American Gold Eagle Coin (1 oz.)
0
65,500
910,000
American Gold Eagle Coin (1/2 oz.)
0
0
65,000
American Gold Eagle Coin (1/4 oz.)
0
0
82,000
American Gold Eagle Coin (1/10 oz.)
0
0
370,000
American Gold Buffalo Coin (1 oz.)
1,500
17,000
170,500
American Silver Eagle
0
1,909,000
39,768,500
Sales of America the Beautiful 5 Oz. Silver Bullion Coins*
Gains Over Last Week
YTD 2011
Gettysburg National Military Park 5 oz. Silver Coin
n/a – sold out
126,700
Glacier National Park 5 oz. Silver Coin
n/a – sold out
126,700
Olympic National Park 5 oz. Silver Coin
0
84,100
Vicksburg National Military Park 5 oz. Silver Coin
500
33,800
Chickasaw Park 5 oz. Silver Coin
500
26,400
TOTAL
1,000
397,700
*The United States Mint does not always provide daily sales figures for its 5-ounce silver coins. The sales are current as of Monday, December 20, 2011.