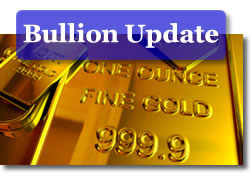 Gold prices dipped slightly Monday, marking five losses in six sessions and four straight below $1,600 an ounce — a closing level the yellow metal gave up Wednesday as prices headed south for what turned out to be a 6.9 percent weekly loss.
"The dollar has moved positive on the day, impacting gold," Scott Gardner, the chief investment officer at Verdmont Capital SA in Panama, said in an e-mail cited on Bloomberg. "It will take some time for investors to regain confidence in gold as a crisis hedge, given the magnitude of the recent shakeout."
Gold prices edged lower $1.20, or 0.1%, to $1,596.70 an ounce in the February futures contract on the Comex in New York. Gold prices ranged between $1,585.50 and $1,611.50. Trading volumes were again light, as they are expected to remain until the new year.
"The next several trading sessions will be characterized by slim participation, year-end book-squaring and perhaps a few out-sized moves that will really not have too much to do with logic or with financial market news," noted Jon Nadler, Senior Analyst at Kitco Metals Inc. "Spectating might just be the most prudent course of action for small retail investors at this juncture. Placing one's money at risk this late in the year is not something to recommend just now."
Silver prices for March delivery declined 79.7 cents, or 2.7%, to $28.874 an ounce. Prices moved from a low of $28.720 to a high of $29.795.
Platinum prices for January delivery fell $3.70, or 0.3%, to $1,413.60 an ounce, trading between $1,405.00 and $1,427.50.
Palladium prices for March delivery ended down $7.80, or 1.2%, to $617.70 an ounce, ranging between $613.95 and $630.75.
London Precious Metals
London precious metals were mixed in the week's start. When comparing London fixings on Monday from those on Friday (PM to PM), gold advanced $4.00 to $1,598.00 an ounce, silver declined $1.00 to $28.78 an ounce, platinum eased $5.00 to $1,419.00 an ounce and palladium gained $3.00 to $627.00 an ounce.
U.S. Mint Bullion Coins
Sales levels for U.S. Mint bullion coins were unchanged as of 3:30 PM ET. The latest daily, monthly, and year-to-date U.S. Mint bullion coin sales follow:
Sales of U.S. Mint American Eagle and Buffalo Bullion Coins
Daily Gains
December Gains
YTD 2011
American Gold Eagle Coin (1 oz.)
0
65,500
910,000
American Gold Eagle Coin (1/2 oz.)
0
0
65,000
American Gold Eagle Coin (1/4 oz.)
0
0
82,000
American Gold Eagle Coin (1/10 oz.)
0
0
370,000
American Gold Buffalo Coin (1 oz.)
0
13,500
167,000
American Silver Eagle
0
1,559,000
39,418,500
Sales of America the Beautiful 5 Oz. Silver Bullion Coins*
Prior Weekly
Weekly Gains
YTD 2011
Gettysburg National Military Park 5 oz. Silver Coin
n/a – sold out
126,700
Glacier National Park 5 oz. Silver Coin
n/a – sold out
126,700
Olympic National Park 5 oz. Silver Coin
0
800
84,100
Vicksburg National Military Park 5 oz. Silver Coin
300
800
33,300
Chickasaw Park 5 oz. Silver Coin
300
1,200
25,900
TOTAL
600
2,800
396,700