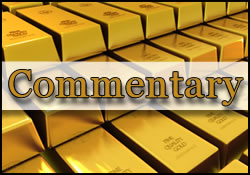 Gold's largest decline since September not only managed to change the price tags on various bullion items by a significant margin, but it has also altered the sentiment among market participants by a notable degree. Whereas just days ago the trading crowd exhibited bullishness levels higher than in more than a month, as of last night the same players and market-makers showed a level of gold-related enthusiasm that has not been as feeble since July.
Albeit nearly half of Bloomberg's weekly surveyed industry individuals feel that gold could rebound next week (which would only be expected following the week that was) the apprehension that the 20% fall since September's high might have ushered in a bear market remains palpable among them and, increasingly, amid the ranks of the investing public at large. The two metrics that generally satisfy the application of the 'bear market' label involve the aforementioned 20% decline from a top and the penetration of the 200-day moving average; both of which were achieved during this week's 9%+ rout. Perhaps just as important a feature for such a possible shift in the market is the total denial on display among perpetual male bovines.
Friday's opening action in New York was indicative of a day of recovery in the making, after four losing sessions. Spot gold started off with a gain of $23 per ounce at the $1,594 mark on the bid-side and silver gained 50 cents to open at the $29.78 level. In the ensuing first 20 minutes of trading that gain in the white metal was halved while gold retreated to the $1,585 area an hour later. Silver appears firmly entrenched in the bear's grip, even as the heated debates about gold's current paradigm show no signs of abating among some.
It is tally time (or almost) for the performers and under performers of 2011; a year that many would sooner prefer to file away quickly when it comes to investing. A quick parsing of certain equities where one might have parked their piggybank stash shows some interesting highlights. Yes, one could have made 128.8% by buying Cabot Oil and Gas. Chipotle Mexican Grill returned a spicy 55.4% to its shareholders. Owning Netflix turned into a horror movie replete with a 62.2% loss on the year. No need to trot out BofA again; Mr. Paulson feels the pain.
However, had you bought stock in certain gold and silver mining firms, or the XAU, well, you might not have too much to write home about. The index has fallen by 18.4% thus far in 2011 (almost as much on the negative side as gold has risen net-net so far). Note that such under performance has come amid some of the most gigantic margins ever to be recorded in the niche. As one analyst pointed out however, gold in the ground is not cash on the books. One "stand-out" that comes to mind is Northern Dynasty Minerals (NDM NAK), which, if bought on Feb. 4 at $21.02 a share, is now worth $6.05 a share (70% less). Ouch.
Platinum advanced by $20 to the $1,423 bid figure and palladium climbed $3 to $621 per ounce. Background price checks indicated the US dollar still above the 80 pivot point on the trade-weighted index and crude oil rising half a dollar to the $94.38 level. The euro was hanging on to the $1.30 tilting point, mainly due to talk of sporadic ECB support for certain debt offerings. Spanish bonds received a warmer than anticipated reception this morning, for a change. However, what has really changed in the background? Nada.
The common currency's slide appears to be pausing for the moment but lingering anxiety continues to remain on the scene as investors see a long slog ahead for Europe and Moody's remains…in the mood to continue to take the scalpel to the ratings of various EU member nations. Fitch's Ratings, for its part, has already applied said scalpel to a cluster of the world's largest banks; BNP Paribas, Soc Gen, Barclays, and Bof A. Meanwhile, the war of words between the UK and France continued without pause this morning.
French Finance Minister Monsieur Baroin (in an almost Monty Python and the Holy Grail-like tone of "I toot in your general direction") asserted that France's economy is (nyah,nyah,nyah) in much better shape than that of England. Yes, but…"your country remains the one that S&P has threatened with the removal of a letter "A" from its ratings status"…you can just hear the Brits retorting. And so it goes…
The deep row between the two nations has escalated after the Marseille summit even as some French politicians have tried to defuse the situation and observed that, basically, everyone is approximately in the same 'boat.' Hopefully, not a large one with the letters "TI…" painted on its side. The IMF's Christine Lagarde said that Europe's problems cannot/will not be solved by Europe alone. She called for a multi-national effort (with the IMF doing its bit) to address the debt debacle in the Old World and she noted that the global economy's prospects are "quite gloomy" if the situation goes unresolved. Ms. Lagarde drew uncomfortable parallels to the Great Depression of the 1930s to make he points.
US consumer inflation data came in with a showing of 'flat' this morning as November witnessed declines in energy costs. The core inflation rate rose by 0.2% on the month. The Dow gained 90 points, the dollar remained at 80.20 and Santa was seen gearing up somewhere in Finland…
"He's making a list, checking it twice…."
Jon Nadler
Senior Metals Analyst — Kitco Metals
Jon Nadler
Senior Analyst
Kitco Metals Inc.
North America
Disclaimer: The views expressed in this article are those of the author and may not reflect those of Kitco Metals Inc. The author has made every effort to ensure accuracy of information provided; however, neither Kitco Metals Inc. nor the author can guarantee such accuracy. This article is strictly for informational purposes only. It is not a solicitation to make any exchange in precious metal products, commodities, securities or other financial instruments. Kitco Metals Inc. and the author of this article do not accept culpability for losses and/ or damages arising from the use of this publication.
www.kitco.com and www.kitco.cn
Blog: http://www.kitco.com/ind/index.html#nadler