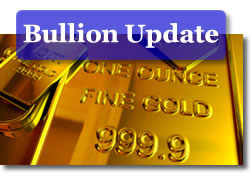 Gold rebounded Monday to rise $25.10 above last week's close and break a two-session losing streak. A weaker U.S. dollar and bargain-hunting were among factors supporting higher prices.
"Gold today has to do largely with the dollar pullback," Businessweek quoted Andrey Kryuchenkov, an analyst at VTB Capital in London, by phone. "Support for gold is well intact."
Gold prices gained 1.5 percent to settle at $1,710.80 an ounce in the December futures contract on the Comex in New York. It was gold's highest closing price since November 18. The yellow metal ranged between $1,684.00 and $1,722.40.
Silver prices for December delivery surged $1.147, or 3.7 percent, to settle at $32.161 an ounce. Silver hit an intraday low of $31.245 and touched a high at $32.260.
Platinum prices for January delivery rose $6.40, or 0.4 percent, to $1,539.50 an ounce, trading from $1,536.00 to $1,567.50.
Palladium prices for March delivery — now the most active contract, advanced $9.35, or 1.6 percent, to $581.55 an ounce. Palladium ranged between $565.50 and $597.50.
London Precious Metals
With the exception of silver, London precious metals gains were stronger than futures in New York. When comparing London fixings on Monday (PM) from those on Friday (PM), gold added $25.50 to $1,714.00 an ounce, silver prices rose 76.0 cents to $32.00 an ounce, platinum climbed $29.00 to $1,558.00 an ounce and palladium added $23.00 to $595.00 an ounce
U.S. Mint Bullion Coin Weekly Sales
Sales levels for U.S. Mint bullion coins advanced for the one-ounce silver and gold sizes. The 24-karat American Gold Buffalo added 500 while the 22-karat American Gold Eagle gained 5,000. American Silver Eagle bullion coins finally registered solid one-day sales. The .999 fine silver pieces rallied 300,000, or more than each of its past three weekly totals. Still, their November total advanced to a sluggish 1.284 million overall. It looks like November could end with a less than 2 million figure. That has not happened since December 2010. Last November was a monthly record-breaker, scoring 4.26 million in sales.
The latest daily, monthly, and year-to-date U.S. Mint bullion coin sales follow:
Sales of U.S. Mint American Eagle and Buffalo Bullion Coins
Daily Gains
November Gains
YTD 2011
American Gold Eagle Coin (1 oz.)
5,000
38,500
844,500
American Gold Eagle Coin (1/2 oz.)
0
0
65,000
American Gold Eagle Coin (1/4 oz.)
0
4,000
82,000
American Gold Eagle Coin (1/10 oz.)
0
15,000
370,000
American Gold Buffalo Coin (1 oz.)
500
8,500
153,500
American Silver Eagle (1 oz.)
300,000
1,284,000
37,759,500
Sales of America the Beautiful 5 Oz. Silver Bullion Coins*
Weekly Gains
YTD 2011
Gettysburg National Military Park 5 oz. Silver Coin
n/a – sold out
126,700
Glacier National Park 5 oz. Silver Coin
n/a – sold out
126,700
Olympic National Park 5 oz. Silver Coin
0
83,300
Vicksburg National Military Park 5 oz. Silver Coin
0
32,200
Chickasaw Park 5 oz. Silver Coin
0
24,400
TOTAL
0
393,300
*The United States Mint does not provide daily sales figures for its 5-ounce silver coins. The sales are current as of Friday, November 18, 2011.