Just a few more new product releases remain on the United States Mint 2011 product schedule, including America the Beautiful Quarter products and Presidential and First Spouse coin items.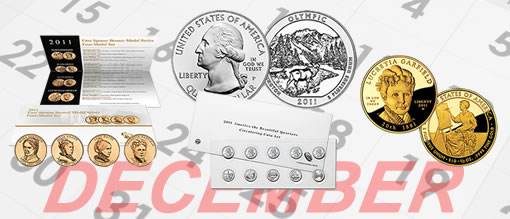 To wrap up November, the United States Mint is launching two separate items on Tuesday, November 29, at 12 PM (noon) Eastern Time. They are the Olympic National Park 5 Ounce Silver Uncirculated Coin and the 2011 America the Beautiful Quarters Circulating Coin Set.
Collectors will not have very long, however, to place these and other orders before holiday deadlines for shipping approach. As a reminder, the United States Mint posted a request on its website for orders to be placed by December 5 so that the products can be delivered before December 25. Later orders, up to December 12, can utilize the more expensive expedited shipping services to ensure deliveries by Christmas.
Specifically, the Mint's online instructions state, "To ensure delivery on any in-stock item anywhere in the U.S. by December 25, 2011, order by December 5, 2011, for standard delivery and December 12, 2011, for expedited delivery."
Still missing released dates, but remaining on the product schedule, are the final two 2011 America the Beautiful 5 Ounce Silver Uncirculated Coins that honor Vicksburg National Military Park in Mississippi and Chickasaw National Recreation Area in Oklahoma. At the time of this writing, the letters TBD ("To Be Determined") is all that is listed in schedule. These two coins are actually expected to be released next year.
Below is a list of the remaining products on the Mint's 2011 schedule. As always, the dates are subject to change.
| | |
| --- | --- |
| Release Date | United States Mint Product |
| November 29 | Olympic National Park 5 Oz Silver Uncirculated Coin |
| November 29 | 2011 America the Beautiful Quarter Quarters Circulating Coin Set |
| December 1 | Lucretia Garfield First Spouse Gold Coins and Medal |
| December 1 | First Spouse Bronze Four-Medal Set |
| December 20 | Chickasaw Quarter Three-Coin Set |
| December 22 | Garfield Presidential Coin & First Spouse Medal Set |
| December 29 | James Garfield Presidential $1 Coin Cover |
| TBD | Vicksburg National Military Park 5 Oz Silver Uncirculated Coin |
| TBD | Chickasaw National Recreation Area 5 Oz Silver Uncirculated Coin |
Upon their respective release dates, collectors can purchase the above items from the United States Mint website at http://www.usmint.gov/catalog or by calling 1-800-USA-MINT (872-6468) typically starting at 12 PM (noon) Eastern Time. The standard shipping and handling charge is $4.95 for domestic orders and expedited delivery is an additional $12.95.