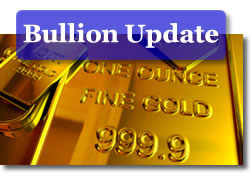 Gold prices advanced with a high above $1,800 an ounce on Tuesday, although the yellow metal later gave back a portion of its gain and missed the milestone by 80 cents. A weaker U.S. dollar and continued worries over Europe's debt crisis supported higher prices, opined analysts.
"Today's focus is the lack of real resolution to the issues in the euro zone and the concerns of the Italian debt crisis. For the short term, gold looks like it is going to break over the psychological resistance of $1,800," Reuters quoted said Miguel Perez-Santalla, vice president at Hereaus Precious Metals Management.
Gold prices advanced $8.10, or 0.5 percent, to close at $1,799.20 an ounce in the December futures contract on the Comex in New York. The settlement price remained gold's best since September 21, or one day shy of seven weeks. Gold touched an intraday low of $1,778.30 and hit its high at $1,804.40.
"The daily battle is headlines from Europe" and "short-term profit-taking, which keeps gold's progression higher in check," MarketWatch quoted Jeff Wright, managing director at Global Hunter Securities. "The solutions to Greece/Italy are all inflationary in nature; inflation is supportive of gold as it erodes the value of currencies."
Silver prices for December delivery added 32.2 cents, or 0.9 percent, to settle at $35.15 an ounce. Jim Wyckoff of Kitco Metals Inc. writes in the Tuesday Kitco Roundup about silver's near-term technicals:
"December silver futures prices closed nearer the session high again Tuesday. The key 'outside markets' were bullish for silver today, as the U.S. dollar index was weaker and crude oil prices were higher. The silver bulls have the overall near-term technical advantage. A six-week-old uptrend is in place on the daily bar chart.

Silver bulls' next upside price objective is producing a close above solid technical resistance at the October high of $35.70 an ounce. The next downside price breakout objective for the bears is closing prices below solid technical support at last week's low of $32.105.

First resistance is seen at Tuesday's high of $35.35 and then at $35.70. Next support is seen at Tuesday's low of $34.505 and then at $34.00. Wyckoff's Market Rating: 6.5."
In PGM metals, platinum prices for January delivery gained $15.10, or 0.9 percent, to close at $1,673.10 an ounce while palladium prices for December delivery added $15.35, or 2.3 percent, to settle at $677.25 an ounce.
London Precious Metals
London precious metals moved higher as a group for a second straight day. When comparing London fixings on Tuesday (PM) from those on Monday (PM), gold climbed $13.00 to $1,795.00 an ounce, silver prices rose 16.0 cents to $34.64 an ounce, platinum added $27.00to $1,661.00 an ounce and palladium gained $14.00 to $673.00 an ounce.
U.S. Mint Bullion Coin Weekly Sales
Sales of U.S. Mint bullion coins advanced Tuesday after a day of silence. Gains were published across each of the bureau's one-ounce coins. Levels in November remain modest, however, as daily bullion coin increases included 1,000 for the 24-karat Gold Buffalo, 1,500 for the 22-karat Gold Eagle and 140,000 for the .999 fine Silver Eagle.
In related news, as a result of higher gold prices, expectations are that the U.S. Mint will raise gold coin prices for its commemorative and collector offerings on Wednesday. Price increases could range from between $5 to $92.50, depending on the numismatic product.
U.S. Mint bullion coin sales as of 3:43 p.m. ET are shown in the tables below:
Sales of U.S. Mint American Eagle and Buffalo Bullion Coins
Daily Gains
November Gains
YTD 2011
Gold Eagle Coin (1 oz.)
1,500
7,000
813,000
Gold Eagle Coin (1/2 oz.)
0
0
65,000
Gold Eagle Coin (1/4 oz.)
0
2,000
80,000
Gold Eagle Coin (1/10 oz.)
0
0
355,000
Gold Buffalo Coin (1 oz.)
1,000
1,500
146,500
American Silver Eagle (1 oz.)
140,000
516,000
36,991,500
Sales of America the Beautiful 5 Oz. Silver Bullion Coins*
YTD 2011
Gettysburg National Military Park 5 oz. Silver Coin
126,700
Glacier National Park 5 oz. Silver Coin
126,700
Olympic National Park 5 oz. Silver Coin
82,700
Vicksburg National Military Park 5 oz. Silver Coin
31,600
Chickasaw Park 5 oz. Silver Coin
22,300
TOTAL
390,000
*The as of date for sales of U.S. Mint America the Beautiful Five Ounce Silver Bullion Coins is Friday, November 4, 2011. The Mint does not publish daily sales for its 5-ounce coins.