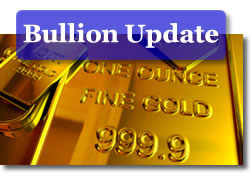 Gold prices on Monday reached a six-week high on safe-haven demand as the global spotlight shifted from Greece's debt-woes to those of Italy.
"The problems in Europe are not disappearing in a hurry, and there is so much confusion," Thorsten Proettel of Landesbank Baden-Wuerttemberg in Stuttgart, Germany, said in a telephone interview cited on Bloomberg. "There is a basis for gold to continue to rise."
Gold prices rose $35.00, or 2.0 percent, to $1,791.10 an ounce in the December futures contract on the Comex in New York. The settlement price was gold's highest since September 21. Prices traded between an intraday low of $1,754.00 and a high of $1,796.00.
"Potential attempts to touch the $1,800 mark might be in the works for the day/week in gold but nervousness prevails and European news will play the pivotal role in the market, perhaps more so than the dollar's gyrations," wrote Jon Nadler, Senior Analyst at Kitco Metals Inc.
Last week gold advanced $8.90, or 0.5 percent, after dropping $9.00 on Friday.
"Gold managed to rally last week even though a slew of other risk assets ended in the red. Investors prefer the comfort of gold during times of global duress," Reuters quoted Adam Sarhan, CEO of Sarhan Capital.
Silver prices for December delivery gained 74.4 cents, or 2.2 percent, to settle at $34.828 an ounce. The metal ranged from $33.855 to $34.905. Silver fell 3.4 percent last week.
Platinum prices for January delivery rose $28.70, or 1.8 percent, to close at $1,658.00 an ounce. Platinum traded between $1,628.70 and $1,659.50.
Palladium prices for December delivery climbed $6.60, or 1.0 percent, to settle at $661.90 an ounce. Palladium ranged from $648.90 to $665.95.
London Precious Metals
London precious metals also moved higher. When comparing London fixings on Monday (PM) from those on Friday (PM), gold prices advanced $33.00 to $1,782.00 an ounce, silver added 53.0 cents to $34.48 an ounce, platinum gained $10.50 to $1,634.00 an ounce and palladium advanced $7.00 to $659.00 an ounce.
U.S. Mint Bullion Coin Weekly Sales
Sales levels for U.S. Mint bullion coins remained unchanged as of 3:50 p.m. ET. The latest available daily, monthly, and year-to-date sales figures follow:
Sales of U.S. Mint American Eagle and Buffalo Bullion Coins
Daily Gains
November Gains
YTD 2011
Gold Eagle Coin (1 oz.)
0
5,500
811,500
Gold Eagle Coin (1/2 oz.)
0
0
65,000
Gold Eagle Coin (1/4 oz.)
0
2,000
80,000
Gold Eagle Coin (1/10 oz.)
0
0
355,000
Gold Buffalo Coin (1 oz.)
0
500
145,500
American Silver Eagle (1 oz.)
0
376,000
36,851,500
Sales of America the Beautiful 5 Oz. Silver Bullion Coins*
YTD 2011
Gettysburg National Military Park 5 oz. Silver Coin
126,700
Glacier National Park 5 oz. Silver Coin
126,700
Olympic National Park 5 oz. Silver Coin
82,700
Vicksburg National Military Park 5 oz. Silver Coin
31,600
Chickasaw Park 5 oz. Silver Coin
22,300
TOTAL
390,000
*The as of date for sales of U.S. Mint America the Beautiful Five Ounce Silver Bullion Coins continues to be Monday, October 31, 2011. The Mint does not publish daily sales for its 5-ounce coins.