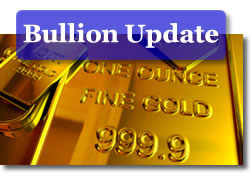 Gold prices edged lower Friday, snapping a two-day winning streak. Still, the yellow metal registered a modest weekly gain of $8.90, or 0.5 percent, while other precious metals retreated.
In closing the week, gold prices declined $9.00, or 0.5 percent, to $1,756.10 an ounce in the December futures contract on the Comex in New York. The yellow metal ranged from an intraday low of $1,749.80 to a high of $1,766.50.
"The conditions are perfect" for gold, Bloomberg quoted Mark O'Byrne, the Dublin-based executive director of GoldCore Ltd. "We have unprecedented levels of risk in markets. We still have ultra-loose monetary policy and the debasing of currencies. That's obviously bullish for gold."
Last week gold prices moved through a range difference of $117.40. This week's range was slighter at $88.30, with the week's lowest intraday price occurring on Tuesday at $1,681.20 an ounce and the highest price on Thursday at $1,769.50. Gold prices are expected to rise yet again next week according to most participants in the latest gold survey conducted by Kitco News.
"In the Kitco News Gold Survey, out of 34 participants, 24 responded this week. Of those 24 participants, 21 see prices up, while three see prices down and none see prices sideways or unchanged. Market participants include bullion dealers, investment banks, futures traders and technical chart analysts.

After the European Central Bank's surprise move to cut interest rates this week and a dovish U.S. Federal Reserve, several survey participants cited the continuously low interest-rate environment for gold as positive. Ultra-low interest rates mean …"
Kitco's previous weekly survey had 19 participants correctly forecasting higher gold prices while 5 market watchers had expected them lower and 2 sideways.
Gold is easily the best performing major metal of the year. Gold prices have soared $334.70, or 23.5 percent, in 2011.
Weekly Losses in other Precious Metals Futures
Silver prices for December delivery edged down 41.4 cents, or 1.2 percent, to $34.084 an ounce, ranging between $33.810 and $34.750. The white metal dropped this week by $1.20, or 3.4 percent, cutting into its yearly gain which is now at $3.147, or 10.2 percent.
Platinum prices for January delivery declined $17.70, or 1.1 percent, to close at $1,629.30 an ounce. Platinum moved between $1,622.40 and $1,646.70. For the week, platinum fell $22.50, or 1.4 percent. The metal is down $148.90, or 8.4 percent, in 2011.
Palladium prices for December delivery settled at $655.30 an ounce for a loss of $6.80, or 1.0 percent. Palladium traded between a low of $649.75 and a high of $663.70. Palladium ticked lower this week by $13.05, or 2.0 percent. For the year, the PGM metal has fallen $148.20, or 18.4 percent.
London Precious Metals
London precious metals moved in the same direction as New York futures. When comparing London fixings on Friday (PM) from those on Thursday (PM):
Gold prices declined $9.00 to $1,749.00 an ounce,
Silver fell 77 cents to $33.95 an ounce,
Platinum was off $1.50 to $1,623.50 an ounce, and
Palladium declined $9.00 to $652.00 an ounce
London gold gained 0.5 percent this week. Weekly losses in the other precious metals included silver's 4.2 percent, platinum's 0.3 percent and palladium's 1.1 percent.
U.S. Mint Bullion Coin Weekly Sales
Following two days of inactivity, bullion coin gains were published by the United States Mint on Friday. Advances included the American Eagle one-ounce coins — 1,500 for the Gold Eagle and 351,000 for the Silver Eagle. On a weekly basis, sales were again timid for both as well as each of the other bullion products produced by the Mint. The latest daily, weekly, monthly, and year-to-date U.S. Mint bullion coin sales figures follow:
Sales of U.S. Mint American Eagle and Buffalo Bullion Coins
Daily Gains
Prior Weekly
Weekly Gains
November Gains
YTD 2011
Gold Eagle Coin (1 oz.)
1,500
7,000
5,500
5,500
811,500
Gold Eagle Coin (1/2 oz.)
0
1,000
0
0
65,000
Gold Eagle Coin (1/4 oz.)
0
2,000
2,000
2,000
80,000
Gold Eagle Coin (1/10 oz.)
0
5,000
0
0
355,000
Gold Buffalo Coin (1 oz.)
0
500
500
500
145,500
American Silver Eagle (1 oz.)
351,000
332,000
476,000
376,000
36,851,500
Sales of America the Beautiful 5 Oz. Silver Bullion Coins*
YTD 2011
Gettysburg National Military Park 5 oz. Silver Coin
126,700
Glacier National Park 5 oz. Silver Coin
126,700
Olympic National Park 5 oz. Silver Coin
82,700
Vicksburg National Military Park 5 oz. Silver Coin
31,600
Chickasaw Park 5 oz. Silver Coin
22,300
TOTAL
390,000
*The as of date for sales of U.S. Mint America the Beautiful Five Ounce Silver Bullion Coins is Monday, October 31, 2011. The Mint does not publish daily sales for its 5-ounce silver coins.