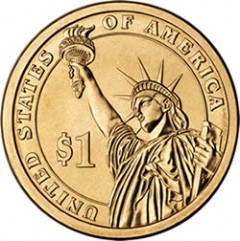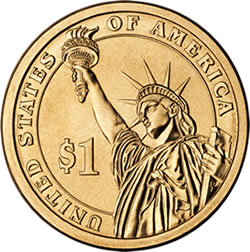 Despite an official confirmation from the United States Mint that is likely to be off into the distance, Federal Reserve Bank Services has published release dates for the upcoming 2012 Presidential $1 Coins, just as it recently listed them for the 2012 quarters. Of course, the standard caveat of "release dates are subject to change" applies, but it does give interested collectors at least a close idea of when the strikes from the sixth year of the Presidential series will be issued.
These four releases will mark the 21st through 24th of the series which honors former Presidents of the United States of America with portraits of the selected individuals showcased on the obverse of each strike. The program debuted in 2007 with a coin honoring George Washington, the first President of the United States.
Since that inaugural release, coins in the series have appeared at a rate of four per year honoring the former Presidents in the order in which they served. Featured on the 2012 Presidential $1 Coins will be strikes honoring Chester A. Arthur who served in the nation's highest office from 1881-1885, Grover Cleveland who held the office from 1885-1889, Benjamin Harrison who was President from 1889-1893 and a second coin honoring Grover Cleveland acknowledging his second non-consecutive term which ran from 1893-1897.
Along with the release dates, the Federal Reserve has also indicated a special ordering period for the dollars. This is a 5-week window running three weeks before the public release to two weeks after in which depository institutions (banks) may order unmixed Presidential $1 Coins in boxes containing $1,000 worth of wrapped $25 rolls. Institutions may also order $2,000 bags of loose Presidential $1 Coins by contacting their associated local Federal Reserve Bank.
In the order of their official release into circulation, the special order period and public release dates follow:
2012 Presidential Dollar Release Dates
| | | |
| --- | --- | --- |
| Coin | Public Release Date | Special Order Period |
| Chester A. Arthur Presidential Coin | February 16, 2012 | January 26 – March 1 |
| Grover Cleveland Presidential Coin (first) | May 17, 2012 | April 26 – May 31 |
| Benjamin Harrison Presidential Coin | August 16, 2012 | July 26 – August 30 |
| Grover Cleveland Presidential Coin (second) | November 15, 2012 | October 25 – November 29 |
The fact that specific coins are available for order by local depository institutions is thanks to legislative requirements. Typically, local banks and other institutions may only place orders for coinage of a particular denomination and not by a specific design. This unique procedure has allowed some collectors to obtain rolls of the new strikes at face value from their banks instead of having to order them at a premium from other places.
Coins in the Mint's Presidential $1 series (http://www.usmint.gov/mint_programs/$1coin/) are scheduled to be issued until at least 2016. That is, however, unless legislative changes modify the current program — something which has been threatened on several recent occasions owing to a growing stockpile of dollar coins in the treasury vaults.