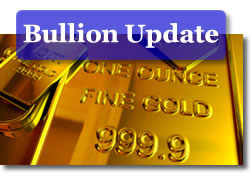 Gold futures rallied nearly $50 Tuesday and closed above $1,700 an ounce as fresh concerns surfaced over Europe's debit crisis.
"People are realizing that the European situation is not resolving itself, and it's coming to the forefront again," Reuters earlier quoted Zachary Oxman, managing director at futures broker TrendMax.com. "If we can close above $1,700, I think we will see a meaningful jump in the next few weeks and $1,900 is very possible again."
Gold prices soared $48.10, or 2.9 percent, to $1,700.40 an ounce in the December futures contract on the Comex in New York. The yellow metal traded between an intraday low of $1,644.60 and a high of $1,704.70.
"Gold is getting support because there is a general consensus that there will be Fed-induced stimulus to support growth in U.S. at a time when Europe may go into recession because of the debt crisis," Paul Dietrich, the chief executive officer of Foxhall Capital Management Inc., said in a telephone interview that was cited on Bloomberg. "And that may be inflationary."
Silver prices for December delivery surged $1.408, or 4.4 percent, to settle at $33.052 an ounce. The white metal ranged from $31.355 to $33.335. Jim Wyckoff of Kitco Metals Inc. writes in the Tuesday Kitco Roundup about silver's near-term technicals:
"December silver futures prices closed nearer the session high Tuesday and hit a fresh four-week high as the bulls also gained fresh upside near-term technical momentum to re-establish a five-week-old uptrend on the daily bar chart.

The silver bulls now have the overall near-term technical advantage. Silver bulls' next upside price objective is producing a close above strong technical resistance at $33.585 an ounce.

The next downside price breakout objective for the bears is closing prices below solid technical support at last week's low of $29.935. First resistance is seen at Tuesday's high of $33.335 and then at $33.585. Next support is seen at $32.50 and then at $32.00.

Wyckoff's Market Rating: 6.0."
Platinum prices for January delivery closed to $1,568.80 an ounce, advancing $26.80, or 1.7 percent, as prices moved during the day from a low of $1,539.00 to a high of $1,571.70.
Palladium prices for December delivery added $13.60, or 2.1 percent, to settle at $652.10 an ounce. Palladium traded between $632.30 and $654.85.
London Precious Metals
London precious metals rose as well, but modestly in contrast to bullion futures market in New York. When comparing London Fix prices on Tuesday (PM) from those on Monday (PM), gold added $4.00 to $1,656.00 an ounce, silver climbed 30.0 cents to $32.00 an ounce, platinum advanced $6.00 to $1,543.00 an ounce and palladium added $6.00 to $637.00 an ounce.
U.S. Mint Bullion Coin Sales
American Silver Eagles were the only U.S. Mint bullion coins to rise Tuesday, although each of the major bullion products were reported higher by the Mint late Monday. The latest daily and year-to-date sales figures follow:
Sales of U.S. Mint American Eagle and Buffalo Bullion Coins
Monday Gains
Tuesday Gains
October Gains
YTD 2011
Gold Eagle Coin (1 oz.)
2,000
0
41,000
801,000
Gold Eagle Coin (1/2 oz.)
1,000
0
3,000
65,000
Gold Eagle Coin (1/4 oz.)
2,000
0
6,000
78,000
Gold Eagle Coin (1/10 oz.)
5,000
0
10,000
355,000
Gold Buffalo Coin (1 oz.)
500
0
12,500
145,000
American Silver Eagle (1 oz.)
167,000
125,000
2,924,000
36,355,500
Sales of America the Beautiful 5 Oz. Silver Bullion Coins*
YTD
2011
Gettysburg National Military Park 5 oz. Silver Coin
126,700
Glacier National Park 5 oz. Silver Coin
126,700
Olympic National Park 5 oz. Silver Coin
82,200
Vicksburg National Military Park 5 oz. Silver Coin
31,500
Chickasaw Park 5 oz. Silver Coin
21,600
TOTAL
389,700
*The as of date for sales of U.S. Mint America the Beautiful Five Ounce Silver Bullion Coins is Monday, October 24, 2011. The Mint does not publish daily sales for its 5-ounce coins.