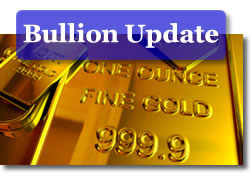 Gold futures dropped for a fourth straight day Thursday as technical selling and European uncertainty weighed into the picture.
"There is no real support for gold until it trades back toward $1,550-1,575. We fear it may get there faster than anyone might wish to imagine given the liquidation pressure taking place," independent investor Dennis Gartman was quoted on Reuters.
Gold prices fell $34.10, or 2.1 percent, to $1,612.90 an ounce in the December futures contract on the Comex in New York. Gold traded from a low of $1,604.70 to a high of $1,646.50.
"Gold prices turned significantly weaker overnight and touched lows near $1,605 as waves of fund-based selling pummeled bids in the yellow metal overseas," noted Jon Nadler, Senior Analyst at Kitco Metals Inc.

"From a technical perspective, the precious metal has formed a so-called 'bear flag' pattern and it might now be aiming downward on said flag's 'pole' towards the mid-$1,500s in the perhaps not too distant future. From an Elliott Wave angle as well, gold's ascent from the September 26 low (at $1,532) may have come to a close and the breach of the $1,595 level — if and when it occurs — could usher in declines towards a potential $1,300 target."
Silver prices for December delivery plunged 99.6 cents, or 3.2 percent, to close at $30.281 an ounce. Silver ranged between $29.935 and $31.375.
Platinum prices for January delivery lost $32.70, or 2.1 percent, to settle at $1,490.40 an ounce. Platinum moved from an intraday low of $1,466.00 to a high at $1,521.80.
Palladium prices for December delivery declined $24.00, or 3.9 percent, to $584.40 an ounce, trading between $578.00 and $609.50.
London Precious Metals
London precious metals declined as well, marking their third across the board losses in four days. In comparing London PM fixings on Thursday from those on Wednesday, losses included:
$32.50 for gold at $1,620.00 an ounce,
$1.27 for silver at $30.700 an ounce,
$42.00 for platinum at $1,490.00 an ounce, and
$29.00 for palladium at $595.00 an ounce.
U.S. Mint Bullion Coin Sales
In bullion sales, the U.S. Mint published gains for each of its one-ounce coins. The Gold Eagle advanced 6,000, the Gold Buffalo added 500 and the Silver Eagle shot up 125,000. The latest daily, October and year-to-date U.S. Mint bullion coin sales figures follow:
Sales of U.S. Mint American Eagle and Buffalo Bullion Coins
Daily Gains
October Gains
YTD 2011
Gold Eagle Coin (1 oz.)
6,000
39,000
799,000
Gold Eagle Coin (1/2 oz.)
0
2,000
64,000
Gold Eagle Coin (1/4 oz.)
0
4,000
76,000
Gold Eagle Coin (1/10 oz.)
0
5,000
350,000
Gold Buffalo Coin (1 oz.)
500
12,000
144,500
Silver Eagle Coin (1 oz.)
125,000
2,632,000
36,043,500
Sales of America the Beautiful 5 Oz. Silver Bullion Coins*
YTD
2011
Gettysburg National Military Park 5 oz. Silver Coin
126,700
Glacier National Park 5 oz. Silver Coin
126,700
Olympic National Park 5 oz. Silver Coin
82,200
Vicksburg National Military Park 5 oz. Silver Coin
30,500
Chickasaw Park 5 oz. Silver Coin
20,500
TOTAL
388,700
*The as of date for sales of U.S. Mint America the Beautiful Five Ounce Silver Bullion Coins is Monday, October 17, 2011. The Mint does not publish daily sales for its 5-ounce coins.