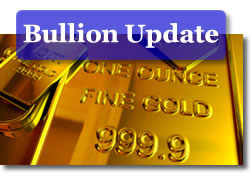 Registering the least in percentage losses among precious metals, gold futures edged 0.4 percenot lower Wednesday as a rebounding U.S. dollar blemished a portion of their appeal.
Precious metals were pressured on news that inflation in the U.S. was relatively tame in September and on a dreary outlook for U.S. economic growth based on the latest release of the Fed's beige book.
Marking a third straight day of losses, gold prices dipped $5.80 to $1,647.00 an ounce in the December futures contract on the Comex in New York. Gold touched an intraday low of $1,642.50 and reached a high at $1,666.90.
"The general consensus is that there is little in the beige book that would fire up hopes of QE3, and coupled with the no real resolution in Europe, investors are liquidating their positions," Reuters quoted Frank McGhee, head precious metals trader of Integrated Brokerage Services LLC in Chicago.
Silver prices for December delivery ended at $31.277 an ounce, falling 55.4 cents, 1.7 percent. The white metal ranged from $31.145 to $32.150.
Platinum prices for January delivery declined $17.60, or 1.1 percent, to $1,523.10 an ounce, moving between $1,521.80 and $1,556.70.
Palladium prices for December delivery ended down $11.50, or 1.9 percent, to $608.40 an ounce. Palladium traded between $606.35 and $628.00.
London Precious Metals
Breaking a streak of two-straight daily losses, earlier fixed London precious metals rose across the board. In comparing London PM fixings on Wednesday from those on Tuesday, increases included:
$21.50 for gold at $1,652.50 an ounce,
97.0 cents for silver at $31.970 an ounce,
$9.00 for platinum at $1,532.00 an ounce, and
$18.00 for palladium at $624.00 an ounce.
U.S. Mint Bullion Coin Sales
The U.S. Mint on Wednesday published gains across most of its major gold bullion coins. The 24-karat Gold Buffalo rose 1,000, lifting its October tally to 11,500, or 1,500 away from matching its September total. In 22-karat gold bullion coins, sales of the one-ounce Gold Eagle added 2,500 while the one-tenth ounce Gold Eagle added 5,000 — the first time the Mint's smallest bullion coin has advanced this month.
The latest daily, weekly and year-to-date U.S. Mint bullion coin sales figures follow:
Sales of U.S. Mint American Eagle and Buffalo Bullion Coins
Daily Gains
October Gains
YTD 2011
Gold Eagle Coin (1 oz.)
2,500
33,000
793,000
Gold Eagle Coin (1/2 oz.)
0
2,000
64,000
Gold Eagle Coin (1/4 oz.)
0
4,000
76,000
Gold Eagle Coin (1/10 oz.)
5,000
5,000
350,000
Gold Buffalo Coin (1 oz.)
1,000
11,500
144,000
Silver Eagle Coin (1 oz.)
0
2,507,000
35,918,500
Sales of America the Beautiful 5 Oz. Silver Bullion Coins*
YTD
2011
Gettysburg National Military Park 5 oz. Silver Coin
126,700
Glacier National Park 5 oz. Silver Coin
126,700
Olympic National Park 5 oz. Silver Coin
82,200
Vicksburg National Military Park 5 oz. Silver Coin
30,500
Chickasaw Park 5 oz. Silver Coin
20,500
TOTAL
388,700
*The as of date for sales of U.S. Mint America the Beautiful Five Ounce Silver Bullion Coins is Monday, October 17, 2011. The Mint does not publish daily sales for its 5-ounce coins.