Collectors attending the American Numismatic Association National Money Show in Pittsburgh, October 13 – 15, 2011, will be able to view the number one collection in the PCGS Set Registry(SM) of Barber half dollars with major varieties (circulation strikes, 1892 – 1915). The set will be displayed at the Professional Coin Grading Service booth, #134.
"We heard excellent comments from collectors and dealers when the set was displayed at the September Long Beach Expo. The display in Pittsburgh will be only the third time this impressive collection has ever been publicly exhibited," said Don Willis, President of PCGS, a division of Collectors Universe (Nasdaq: CLCT).
"The set now has a weighted grade point average of 67.057. It was assembled over decades by Dr. and Mrs. Peter K. Shireman, and they're still adding superb coins," said BJ Searls, PCGS Set Registry Manager.
PCGS Mobile CoinFacts (m.pcgscoinfacts.com), a new application that lets smart phone users instantly access all the historical numismatic information and crystal-clear coin images from the extensive PCGS CoinFacts™ database, will be available free to everyone for a free trial at the ANA National Money Show. This indispensable app is available free everywhere, anytime for those with a PCGS CoinFacts subscription.
PCGS CoinFacts (www.pcgscoinfacts.com) is the Internet's most comprehensive source for information for over 30,000 United States coins, including current prices, auction records, population and images.
Established in 2001, the PCGS Set Registry (www.pcgs.com/setregistry) now hosts nearly 59,000 sets. For additional information about PCGS and its services, visit www.PCGS.com, call PCGS Customer Service at (800) 447-8848 or email info@PCGS.com.
The American Numismatic Association National Money Show will be held, October 13 – 15, 2011, in Halls B-C of the David L. Lawrence Convention Center in Pittsburgh, Pennsylvania. For additional information visit www.NationalMoneyShow.com.
About PCGS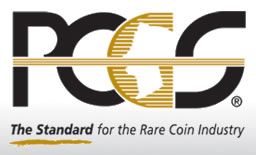 Professional Coin Grading Service (PCGS) is a division of Collectors Universe, Inc. (NASDAQ: CLCT), the leader in third-party authentication and grading services for high-value collectibles including rare coins, trading cards, tickets, autographs, memorabilia and stamps.
Since 1986, PCGS experts have authenticated, graded and certified more than 20 million coins from around the world with a declared value of over $20 billion.