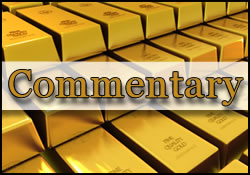 Volatility continued in unabated fashion in the precious metals markets overnight as gold and silver each gave up more than 2% in value on the heels of a firming US dollar.
Thursday's gains in gold largely evaporated and the yellow metal stuck closely to its week-long see-saw pattern while it further disoriented short-term traders and small retail investors. Marketwatch's Myra P. Saefong has been following gold's recent "performance" and has come away concluding that the "ultimate safe haven" has begun to lose not only the superlative that precedes it, but some of the "safe" part of its label as well.
Courtesy of the entrée of hedge funds and other players afflicted with short-term trading myopia, the yellow metal has quickly shifted from being among the least volatile assets (see 2010) to something that has given cause for alarm to many who sought it out since around April of this year. And, this kind of roller-coaster ride, well, it is looking like it is far from being over. In fact, we could just be entering the really rough, stomach-churning portion of the track. Questions as to what might come next are out there in the blogosphere, in more than ample supply.
The problem with such behavior is that it strips away some of the metal's historical attributes and it might result in investors starting to seek refuge in other places deemed somewhat "safer." Ironically, cash comes to mind. A factoid that has escaped the notice of many in recent months is the one that reveals that more than 35% of the global pool of private investment money is actually parked… in cash. Call it waiting for a better opportunity, or call it the fear of losing principal amid stormy investment seas; the conclusion (play it safe) remains the same: few are willing to lose much when it comes to their hard-earned dough.
Thus we come to this morning's market opening time in New York; not a pretty picture, even for a "get me out" Friday. Book-squaring rituals notwithstanding, post Bernanke and Obama speeches aside, the metals headed lower as the US dollar diverted investment funds away from base and precious metals with a vengeance. If this week's patterns are possibly any indication of what might yet come, well, the odds of closing much lower or much higher than the opening strike price are… 50/50. (Sorry, the crystal ball is still out on loan to Madame Sylvia.)
Spot gold opened $37 lower at the bid quote of $1,833.00 while silver gave up 75 cents in value and started the session off at $41.59 the ounce. Platinum and palladium also headed lower as the markets opened for action. The former lost $31 to drop to the $1,829.00 mark while the latter fell $10.00 to start at $743.00 the ounce. The PGM complex may have declined in sympathy with gold and with silver this morning but traders are keeping a wary eye on developments a world away.
Reuters Metals Insider reports this morning that "the Zimbabwean unit of Impala Platinum , the world's second-largest producer of the precious metal, said the government had taken steps to revoke its operating licence and it remained in talks with authorities. The government has been trying to get miners to transfer 51 percent stakes in their local operations to black Zimbabweans."
As mentioned in yesterday's market comment, the Zimplats operation is single-handedly responsible for 6,5, and 4 percent of global platinum, palladium, and rhodium output (as was projected for 2012).
In the background, crude oil was down almost $1 at $88.25 while base metals lost anywhere from 1% (copper) and up to 2% (lead). Misinformed market comments had gold declining under the "sinister" hand of official sector "intervention" this morning and once again also blamed exchange margin hikes (SGE today CME who knows when) and margin calls (from where?) for the sagging market. Last we checked, the 29 tonnes of Libyan gold hit the market back in… circa, April.
Traders at several institutional desks whom we polled in New York this morning clearly attributed the greenback's fresh strength to the perception that President Obama's jobs plan was not a lump of impossible-to-realize promises but that it was/is in effect, more supportive of a stronger US currency than the Fed's hitherto loose monetary policy. Speaking of that, Mr. Bernanke let a few specs down yesterday when he failed to deliver an unequivocal QE3 promise in his address and pushed back the mention of any concrete policy course until the FOMC meeting later this month.
In fact, one professional argued that gold had 'voted' on the Obama plan and in essence gave it a "thumbs up" by declining. At the end of the day, if the Obama jobs package shaves at least 1% off of the rolls of the US unemployed and possibly adds 2% to the nation's growth rate, then it logically follows that continued dollar-selling is not exactly going to remain a productive endeavor for speculators.
Historically speaking, where the dollar goes, gold does not; even if that divergence has been eroded in recent weeks owing to the aforementioned speculative crowd that has been afflicted by the "buy everything" syndrome.
The dollar is strengthening" and gold may have formed a so-called double top, which can be viewed as bearish," Jesper Dannesboe, an analyst at Societe Generale SA in London, said today. "There are very good reasons why people long on gold may be taking profits."
For a quick primer on "why gold/how gold/when gold" see this CNN clip by Ali Velshi. You might just rethink some of the "rationales" for same that have recently been tendered by those who would like to have you own more of it than perhaps you prudently should, as a portfolio diversifier and as core insurance.
The first meeting of the Congressional Deficit Reduction Supercommittee took place in Washington yesterday. Its members are trying to come up with plans to shave $1.5 trillion from US governmental spending. Sacred cattle such as defense and Medicare might be impacted, but so might fat felines residing in swanky zip codes in America. Unless, of course, politics get in the way, the way they normally have a habit of doing…
The Supercommittee will set targets for "major" changes in the US tax code, albeit such alterations might only come about at the end of 2012. At that time, (barring the Mayan calendar's predictions actually becoming a reality), the political wrestling match between those who see revenues coming from higher taxes and those who want them not to, will be perhaps a more intense event than that which the aforementioned calendar would have us prepare for…
In the meantime, let's get back to the current calendar. On it, today, looms the G-7 meeting in Marseille. For starters. Have a pleasant weekend, everyone. Get off the roller-coaster and consider a nice walk.
PS Please note and do observe, yourself as well:
On Friday, September 9, 2011, CME Group will observe the tenth anniversary of the attacks on the World Trade Center. As a result, all CME Group markets on CME Globex will observe voluntary moments of silence at: 07:46 CT/08:46 ET, 08:03 CT/09:03 ET, 08:59 CT/09:59 ET and 09:29 CT/10:29 ET. We request that all electronic market participants refrain from trading all CME Group products on CME Globex and CME ClearPort during these moments of silence.
Thank you.
Jon Nadler
Senior Analyst
Kitco Metals Inc.
North America
Disclaimer: The views expressed in this article are those of the author and may not reflect those of Kitco Metals Inc. The author has made every effort to ensure accuracy of information provided; however, neither Kitco Metals Inc. nor the author can guarantee such accuracy. This article is strictly for informational purposes only. It is not a solicitation to make any exchange in precious metal products, commodities, securities or other financial instruments. Kitco Metals Inc. and the author of this article do not accept culpability for losses and/ or damages arising from the use of this publication.
www.kitco.com and www.kitco.cn
Blog: http://www.kitco.com/ind/index.html#nadler