The Bureau of Engraving and Printing (BEP) on Tuesday made available the Postmaster Intaglio Print, the third and final 2011 print to celebrate the life and accomplishments of Benjamin Franklin.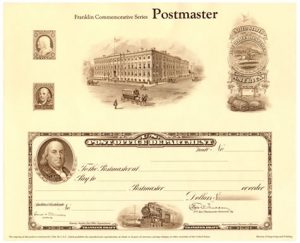 The Postmaster Intaglio Print, on sale for $22.50, joins the previously issued and still available Inventor Intaglio Print and Statesman Intaglio Print. The three issues comprise the 2011 Intaglio Print Program which the Bureau of Engraving and Printing has named the "Franklin Commemorative Series."
The Postmaster print includes two postage stamps and three engravings. The stamps feature a Series 1996 50 cent U.S. Stamp and a Non-denominational Carriers' Stamp. The three engravings, as described by the BEP, include:
"Horse and Rider" that was used on Post Office Department collection drafts, transfer drafts and warrants;
"General Post Office" in Washington, D.C. (1800's); and a
"Post Office Department Transfer Draft" that was used to transfer funds from one post office department to another. This engraving features a portrait of Benjamin Franklin.
The second Franklin Commemorative Statesman Intaglio Print was issued in June. It features the Liberty Bell in the upper left and a scene of the Reading of the Declaration of Independence in the upper right. Toward the bottom is the face of a $10 United States War Bond with a portrait of Benjamin Franklin.
The first Franklin Commemorative Inventor Intaglio Print was issued in March. It featured an engraved portrait of Benjamin Franklin, two vignettes: "Spirit of Electricity" and "Electric Power" and an engraving of an Experimental Die entitled "Success Crowning Commerce and Labor."
For more information on the Inventor, Statesman or Postmaster prints, visit the Bureau of Engraving and Printing online store located here.
Each year the Bureau of Engraving and Printing creates a new Intaglio Print Program that focuses on the "age old art of hand engraving and intaglio printing." The BEP has not announced the focus for the 2012 prints
About the BEP
The Bureau of Engraving and Printing is the largest producer of security documents in the United States. The bureau prints billions of Federal Reserve Notes for delivery to the Federal Reserve System each year. These notes are produced at facilities in Washington, DC, and Fort Worth, Texas.
In addition to U.S. currency, the bureau produces several other security documents such as portions of U.S. passports, materials for Homeland Security, military identification cards, and Immigration and Naturalization Certificates.