The Bureau of Engraving and Printing (BEP) on Monday released the second of three intaglio print cards celebrating the life and accomplishments of Benjamin Franklin.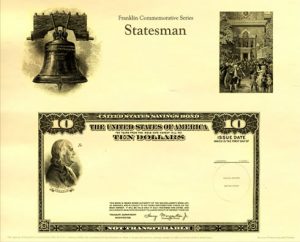 The BEP's 2011 Intaglio Print Program is entitled the "Franklin Commemorative Series." The series, according to the bureau, features "exquisite compilation of unique engraved vignettes focusing on the age-old art of intaglio printing."
The newly released print is named "Statesman." It features the Liberty Bell in the upper left and the Reading of the Declaration of Independence in the upper right. Below is the face of a $10 United States War Bond with a portrait of Benjamin Franklin. 
The Franklin Commemorative Series "Statesman" Intaglio Print is available for a price of $22.50, the same price as the first issue and the expected price of the third.
The still available first intaglio print was named "Inventor." It included an engraved portrait of Benjamin Franklin, two vignettes "Spirit of Electricity" and "Electric Power" and an engraving of an Experimental Die, entitled "Success Crowning Commerce and Labor."
The third and final Franklin Commemorative Series intaglio print is entitled "Postmaster." It will be released in conjunction with the BEP's participation at the American Numismatic Association's (ANA) World's Fair of Money in August 2011.
For more information on the intaglio prints, or to place an order, visit the BEP online store here.
About the BEP
The Bureau of Engraving and Printing is the largest producer of security documents in the United States. The bureau prints billions of Federal Reserve Notes for delivery to the Federal Reserve System each year (the BEP does not produce coins — all coinage is minted by the United States Mint). These notes are produced at facilities in Washington, DC, and Fort Worth, Texas. In addition to U.S. currency, the bureau produces several other security documents such as portions of U.S. passports, materials for Homeland Security, military identification cards, and Immigration and Naturalization Certificates.