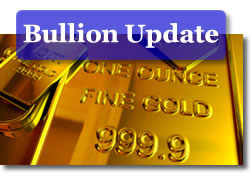 U.S. gold futures surged Tuesday as a worrisome economic outlook ignited safe-haven demand and drove gold prices to a fresh all-time record high.
December gold prices rose $22.80, or 1.4 percent, to $1,644.50 an ounce on the Comex in New York. Gold prices ranged from a low of $1,618.80 to a high of $1,646.80.
"You have a new element on the table: [the prospect of a return to] recession in the U.S.," Adam Klopfenstein, a senior market strategist with MF Global in Chicago, was quoted on MarketWatch. "We have problems with the deficit, problems with growth, and problems overseas."

Klopfenstein was also cited on Bloomberg as saying: "The flight-to-quality money is flowing into gold… There's a lot of uncertainty about the global economic recovery."
September silver prices settled up 78.3 cents, or 2.0 percent, to $40.092 an ounce. Silver prices traded between $39.210 and $40.390. Jim Wyckoff of Kitco Metals Inc. wrote the following of silver in the Tuesday Kitco Metals Roundup:
"December silver futures prices closed nearer the session high Tuesday and saw spillover buying support from the strong gains in gold. The silver bulls have the overall technical advantage.

Bulls' next upside price objective is producing a close above solid technical resistance at last week's high of $41.47 an ounce. The next downside price breakout objective for the bears is closing prices below solid technical support at $38.26.

First resistance is seen at Tuesday's high of $40.41 and then at $41.00. Next support is seen at $40.00 and then at $39.50. Wyckoff's Market Rating: 6.5."
Platinum prices for October delivery declined $1.10, or 0.1 percent, to close at $1,793.50 an ounce. Platinum ranged from $1,788.10 to $1,801.30.
Palladium prices for September delivery declined $2.60, or 0.3 percent, to settle at $826.90 an ounce. Palladium traded between $822.50 and $835.15.
London fixings moved in the same direction as futures in New York. London Fix price comparisons between Tuesday (PM) and Monday (PM) show that gold rose $14.75 at $1,637.75 an ounce and silver rose 42.0 cents to $39.730 an ounce while platinum declined $5.00 at $1,793.00 an ounce and palladium lost $18.00 at $824.00 an ounce.
United States bullion coin sales figures remained unchanged. The latest available bullion coin totals are shown in the following two tables:
US Mint American Eagle and Buffalo Bullion Coin Sales
Daily
Gains
July
2011
August
2011
YTD
2011
Gold Eagle Coin (1 oz.)
0
61,500
3,000
572,000
Gold Eagle Coin (1/2 oz.)
0
3,000
1,000
59,000
Gold Eagle Coin (1/4 oz.)
0
0
2,000
66,000
Gold Eagle Coin (1/10 oz.)
0
15,000
5,000
270,000
Gold Buffalo Coin (1 oz.)
0
12,000
500
92,000
Silver Eagle Bullion Coin (1 oz.)
0
2.968M
258.5K
25.53M
America the Beautiful 5 Oz. Silver Bullion Coin Sales*
YTD
2011
Gettysburg National Military Park 5 oz.
126,700
Glacier National Park 5 oz.
126,700
Olympic National Park 5 oz.
80,700
Vicksburg National Military Park 5 oz.
24,500
Chickasaw Park 5 oz.
10,800
*The Gettysburg and Glacier America the Beautiful Five Ounce Silver Bullion Coins are sold out. The United States Mint does not provide daily per coin sales totals for the Olympic, Vicksburg, and Chickasaw America the Beautiful Five Ounce Silver Bullion Coins as it does for its other investment-grade products. The individual numbers above are as of Wednesday, July 27. The Mint did report on Tuesday that the series advanced by 6,700 coins in August. That lifts their 2011 year-to-date sales to 376,100.
For more information on any of the above U.S. Mint products, visit this site's U.S. & World Coins information page.