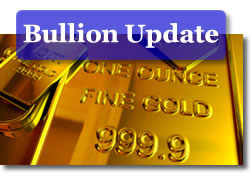 U.S. gold futures reclaimed a new record over $1,517 an ounce Wednesday while silver prices rebounded to within a few cents of $46 an ounce after their biggest day tumble in six weeks.
Precious metals gained strength as the U.S. dollar weakened following the Federal Reserve statement saying it would keep interest rates low for "an extended period."
June gold prices gained $13.60, or 0.9 percent, to $1,517.10 an ounce on the Comex in New York. Gold futures traded between $1,503.30 and $1,524.20.
"There's not a lot the Fed can do to ease the dollar's suffering," Matthew Zeman, a strategist at Kingsview Financial in Chicago, said according to Bloomberg. "The U.S. will be behind in the tightening cycle, and that's a green light to buy gold."
"The continued wording of exceptionally low rates for an extended period says it all," Keith Springer, president of Springer Financial Advisors in Sacramento, Calif., said in emailed comments that were cited on MarketWatch. "They are more worried about recession and deflation, and will keep rates low … All of this will move gold and silver higher as it will increase inflationary pressures and lower the dollar further."
"Comex gold and silver futures prices rallied sharply and moved to daily highs in afternoon trading, in the wake of a bullishly construed statement from the Federal Reserve," noted Jim Wyckoff of Kitco News.

"The U.S. dollar index weakened and fell to its daily low, hitting a fresh 2.5-year low, in the wake of the FOMC meeting statement, which contained no major surprises but did hint that U.S. interest rates would remain low for some time to come. That was bullish for metals due to the inflationary implications and because it was also bearish for the U.S. dollar," he added.
Silver prices for May delivery rebounded 90.8 cents, or 2.0 percent, to settle at $45.958 an ounce. The metal plunged $2.099 during the previous session. Silver prices on the day ranged from a low of $44.830 to a high of $46.220.
Platinum prices for July delivery advanced $13.80, or 0.8 percent, to $1,819.20 an ounce. Platinum traded between $1,805.50 and $1,821.70.
Palladium prices for June delivery added $2.40, or 0.3 percent, to $758.10 an ounce. Palladium ranged from $750.00 to $761.05.
London precious metals prices were mixed for gold and silver and unchanged for platinum and palladium when comparing their PM fixings on Wednesday from Tuesday. The PM gold fix added $13.50 at $1,511.00 an ounce. Silver lost 18.0 cents at $45.300 an ounce. Platinum was $1,812.00 an ounce and palladium was $754.00 an ounce.
United States Mint gold bullion coins showed a second day of solid gains, but silver bullion coins remained unchanged. Daily, April and year-to-date totals for each of the Mint's bullion coins follow:
U.S. Mint 2011 Bullion Coin Sales
Daily Gains
April 2011
YTD 2011
American Eagle Gold Coin (1 oz)
15,000
93,500
357,000
American Eagle Gold Coin (1/2 oz)
7,000
12,000
33,000
American Eagle Gold Coin (1/4 oz)
0
14,000
52,000
American Eagle Gold Coin (1/10 oz)
5,000
35,000
195,000
American Gold Buffalo Coin (1 oz)
3,000
20,000
58,000
American Eagle Silver (1 oz)
0
2,819,000
15,248,000
2011 ATB Silver Bullion Coins (5 oz)
0
153,400
153,400