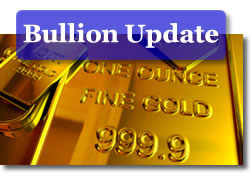 U.S. gold futures edged lower for a second straight day on Thursday as investors booked profits and a rising U.S. dollar limited the yellow metal's appeal.
"Gold has moved $150 this month, so there are going to be some investors who are going to take profit," Frank Lesh, a trader at FuturePath Trading LLC in Chicago, was quoted on Bloomberg.
December gold prices retreated $1.10, or 0.1 percent, to settle at $1,616.20 an ounce on the Comex in New York. Gold traded between an intraday low of $1,605.00 and a high of $1,622.80.
"The market as a whole is starting to get more optimistic that there will be some resolution of the US debt ceiling. If we were to see a resolution, there will be a short-term pull back of the precious metals because of the more certainty," James Rife, an assistant portfolio manager at Haber Trilix Advisors, was cited on Reuters.
Silver prices for September delivery fell 77.4 cents, or 1.9 percent, to close at $39.794 an ounce. Silver ranged from $39.340 to $40.595. Jim Wyckoff of Kitco Metals Inc. wrote the following of silver in the Thursday Kitco Metals Roundup:
"December silver futures prices closed near mid-range Thursday. The silver bulls still have the overall technical advantage.

Bulls' next upside price objective is producing a close above solid technical resistance at this week's high of $41.47 an ounce. The next downside price breakout objective for the bears is closing prices below solid technical support at last week's low of $38.26.

First resistance is seen at $40.00 and then at Thursday's high of $40.61. Next support is seen at Thursday's low of $39.38 and then at $39.00. Wyckoff's Market Rating: 6.5."
Platinum prices for October delivery lost $15.60, or 0.9 percent, to settle at $1,792.40 an ounce. Platinum tradedbetween $1,783.10 and $1,798.00.
Palladium prices for September delivery declined $5.10, or 0.6 percent, to close at $828.10 an ounce. Palladium ranged from $824.00 to $840.00.
London precious metals declined as well. When comparing London Fix PM prices from Thursday to Wednesday, gold fell $11.50 to $1,613.50 an ounce, silver declined 62.0 cents at $40.19 an ounce, platinum fell $24.00 to $1,790.00 an ounce, and palladium declined $13.00 at $829.00 an ounce.
After a day of silence,sales of United States Mint bullion coins advanced on Thursday. Gains were reported by the bureau for each of its one-ounce sized coins. The increases are shown in the following table:
US Mint American Eagle and Buffalo Bullion Coin Sales
Daily
Gains
June
2011
July
2011
YTD
2011
Gold Eagle Bullion Coin (1 oz.)
2,000
56,000
59,000
566,500
Gold Eagle Bullion Coin (1/2 oz.)
0
0
3,000
58,000
Gold Eagle Bullion Coin (1/4 oz.)
0
8,000
0
64,000
Gold Eagle Bullion Coin (1/10 oz.)
0
35,000
15,000
265,000
Gold Buffalo Coin (1 oz.)
1,500
5,500
12,000
91,500
Silver Eagle (1 oz.)
118,000
3.402M
2.628M
24.9315M
America the Beautiful 5 Oz. Silver Bullion Coin Sales
YTD
2011
Gettysburg National Military Park 5 oz.
126,700
Glacier National Park 5 oz.
126,700
Olympic National Park 5 oz.
80,700*
Vicksburg National Military Park 5 oz.
21,800*
*Note: The United States Mint does not provide daily per coin sales totals for the Olympic and Vicksburg America the Beautiful Five Ounce Silver Bullion Coins as it does for its other investment-grade products. The individual numbers above are as of Monday, July 11. The United States Mint did, however, indicate on Tuesday, July 26, that the series of coins advanced 4,900 during the previous eight days and that their July sales total is at 16,300 coins. A portion of that total would include sales from the recently released Chickasaw National Recreation Area 5 oz. silver bullion coin. The 5 oz. bullion series year-to-date sales level is at 369,400.