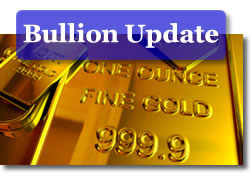 U.S. gold futures edged modestly lower Tuesday, snapping a string of five straight record days and ten consecutive session rallies. Profit-taking and a bipartisan Senate plan to cut $3.7 trillion in U.S. debt were factors cited in weakening gold's safe-haven demand.
"This is a market that, on a short-term basis, is extremely overbought," Matthew Zeman, a strategist at Kingsview Financial in Chicago, said in a telephone interview that was cited on Bloomberg. "There are a lot of people chasing gold, but I'd be a bit leery buying at this level just because of the amount of ground it's covered in such a short time."
August gold prices edged down $1.30, or 0.1 percent, to $1,601.10 an ounce on the Comex in New York. Gold traded from a low of $1,597.50 to a high of $1,610.70.
Silver prices for September delivery declined 12.1 cents, or 0.3 percent, to settle at $40.221 an ounce. Silver prices ranged from $39.915 to $40.880. Jim Wyckoff of Kitco Metals Inc. wrote the following of silver in the Tuesday Kitco Metals Roundup:
"December silver futures prices closed near the session low after hitting a fresh 2.5-month high early on. The silver bulls still have the solid overall technical advantage.

Bulls' next upside price objective is producing a close above solid technical resistance at $42.50 an ounce. The next downside price breakout objective for the bears is closing prices below solid technical support at $38.00.

First resistance is seen at today's high of $40.90 and then at $41.50. Next support is seen at $39.50 and then at this week's low of $39.32. Wyckoff's Market Rating: 7.5."
Platinum prices for October delivery rose 90.0 cents, or 0.1 percent, to $1,776.30 an ounce, ranging between $1,765.00 and $1,793.80.
Palladium prices for September delivery climbed $3.70, or 0.5 percent, to close at $798.30 an ounce. The metal traded between $787.50 and $803.30.
Earlier fixed London precious metals were split as well. When comparing London bullion fixings on Tuesday (PM) from those on Monday (PM), gold added $2.00 to $1,601.00 an ounce, silver prices declined a penny at $40.32 an ounce, platinum added $8.00 to $1,773.00 an ounce, and palladium rose $6.00 at $792.00 an ounce.
United States Mint one-ounce gold bullion coins advanced Tuesday, according to the latest sales figures from the bureau. The 24-karat Gold Buffalo and the 22-karat Gold Eagle each added 2,500. The latest United States Mint bullion product sales figures follow:
US Mint American Eagle and Buffalo Bullion Coin Sales
Daily
Gains
June
2011
July
2011
YTD
2011
Gold Eagle Coin (1 oz.)
2,500
56,000
24,000
531,500
Gold Eagle Coin (1/2 oz.)
0
0
1,000
56,000
Gold Eagle Coin (1/4 oz.)
0
8,000
0
64,000
Gold Eagle Coin (1/10 oz.)
0
35,000
5,000
255,000
Gold Buffalo Coin (1 oz.)
2,500
5,500
8,500
88,000
Silver Eagle (1 oz.)
0
3.402M
1.9695M
24.273M
America the Beautiful 5 Oz. Silver Bullion Coin Sales*
YTD
2011
Gettysburg National Military Park 5 oz.
126,700
Glacier National Park 5 oz.
126,700
Olympic National Park 5 oz.
80,700
Vicksburg National Military Park 5 oz.
21,800
*America the Beautiful (ATB) Silver bullion coin sales figures are not published by the United States Mint daily. The current year-to-date figure has an "as of date" of July 11.