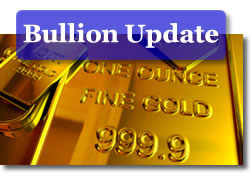 U.S. gold futures ended at a fresh record on Monday, supported by safe-haven demand that was driven by ongoing debt fears in the U.S. and Europe.
"Gold is feeding off the uncertainty of the debt negotiations," Matthew Zeman, a strategist at Kingsview Financial in Chicago, said in a telephone interview that was cited on Bloomberg. "Gold is in a 'can't lose' situation with the debt negotiations because regardless of the outcome, the dollar is going to suffer."
August gold prices rose $10.70, or 0.7 percent, to close at a new record of $1,612.20 an ounce on the Comex in New York. The previous settlement record was set last Monday at $1,602.40 an ounce. Prices on Monday moved between a low of $1,603.80 and a high of $1,624.30. The yellow metal has risen 13.4 percent this year.
Moody overnight downgraded Greece's debt rating into junk territory, further supporting gold.
"The Greek downgrade creates need for safe haven," said Tom Pawlicki, analyst with MF Global in Chicago, according to MarketWatch. "On the debt ceiling, the lack of confidence it will be raised is leading to thoughts that the U.S. government might default."
Silver prices for September delivery advanced 23.9 cents, or 0.6 percent, to settle at $40.361 an ounce. The white metal touched an intraday low of $39.870 and hit a high of $41.105. Jim Wyckoff of Kitco Metals Inc. wrote the following of silver in the Monday Kitco Metals Roundup:
"December silver futures prices closed near mid-range Monday and hit a fresh 11-week high early on. A weaker U.S. dollar index was bullish for silver Monday, but gains were limited by lower crude oil prices.

The silver bulls still have the overall technical advantage and gained some more upside momentum Monday. Bulls' next upside price objective is producing a close above solid technical resistance at $42.50 an ounce. The next downside price breakout objective for the bears is closing prices below solid technical support at last week's low of $38.26.

First resistance is seen at Monday's high of $41.10 and then at $41.50. Next support is seen at Monday's low of $39.91 and then at $39.50. Wyckoff's Market Rating: 7.0."
Silver prices have advanced 30.5 percent in 2011.
Platinum prices for October delivery declined $4.40, or 0.2 percent, to close at $1,794.00 an ounce. They traded between $1,790.40 and $1,804.80.
Palladium prices for September delivery rose $2.60, or 0.3 percent, to settle at $809.00 an ounce. Palladium ranged from $800.30 to $811.85.
Platinum and palladium weekly advances pushed their gains into the black for the year. They registered respective increases of 1.1 percent and 0.4 percent.
London gold and silver prices rose but the PGM metals declined. London Fix price comparisons between Monday (PM) and Friday (PM) has gold up $11.50 to $1,613.50 an ounce, silver prices advancing $1.10 at $40.78 an ounce, platinum declining $2.00 to $1,791.00 an ounce, and palladium falling $4.50 at $802.50 an ounce.
The United States Mint on Monday published sales increases for its one-ounce gold and silver American Eagle bullion coins. The Gold Eagle advanced 5,000, bringing their July total to 42,000. The Silver Eagle rose 193,00 for a new July tally of 2.51 million. The latest United States Mint bullion product sales figures follow:
US Mint American Eagle and Buffalo Bullion Coin Sales
Daily
Gains
June
2011
July
2011
YTD
2011
Gold Eagle Coin (1 oz.)
5,000
56,000
42,000
549,500
Gold Eagle Coin (1/2 oz.)
0
0
3,000
58,000
Gold Eagle Coin (1/4 oz.)
0
8,000
0
64,000
Gold Eagle Coin (1/10 oz.)
0
35,000
15,000
265,000
Gold Buffalo Coin (1 oz.)
0
5,500
10,500
90,000
Silver Eagle (1 oz.)
193,000
3.402M
2.51M
24.8135M
America the Beautiful 5 Oz. Silver Bullion Coin Sales*
YTD
2011
Gettysburg National Military Park 5 oz.
126,700
Glacier National Park 5 oz.
126,700
Olympic National Park 5 oz.
80,700*
Vicksburg National Military Park 5 oz.
21,800*
*The United States Mint does not provide daily per coin sales totals for the Olympic and Vicksburg America the Beautiful Five Ounce Silver Bullion Coins as it does for its other investment-grade products. The individual numbers above are as of Monday, July 11. The United States Mint did, however, indicate on Monday, July 18, that the series of coins advanced 8,600 from the previous seven days and that their July sales total is at 11,400 coins. Their year-to-date level is at 364,500.