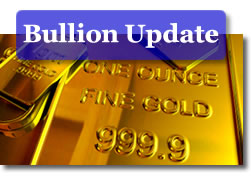 U.S. gold prices rose Tuesday, closing $8.20 higher, at a new record, and near $1,260 an ounce. The frequently cited factor for gold's gains was safe-haven demand driven by renewed concerns over the health of European banks and their debt.
Other precious metals did not ride the coattails of the yellow metal. Silver edged lower by 0.2 percent, platinum lost 0.3 percent and palladium fell 1.6 percent.
Worries over Europe's debt crisis were also attributed for pressuring crude oil and U.S. stocks. Crude fell the most in a week while the three major indexes lost about 1 percent.
New York precious metals closing prices follow:
Gold for December delivery rose 0.7 percent to $1,259.30 an ounce, topping the prior record of $1,258.50 an ounce set on June 18. Gold ranged from $1,246.40 to $1,261.60

December silver declined 3.5 cents to $19.914 an ounce. It ranged between $19.585 and $20.045.

Platinum for October delivery lost $4.80 to end at $1,556.30 an ounce. It ranged from $1,546.30 to $1,568.40.

Palladium for December delivery fell $8.25 to $523.20 an ounce. It ranged between $520.75 and $533.00.
In notable bullion quotes of the day:
"The most important factor driving gold right now is demand from safe-haven investors," David Beahm, a vice president at Blanchard & Co. in New Orleans, said in an email interview that was cited on MarketWatch. "With the tremendous amount of economic uncertainty plaguing both Europe and the U.S., investors are flocking to gold to protect their wealth."
"Gold is back in vogue with the stock-market weakness," Adam Klopfenstein, a senior market strategist at Lind-Waldock in Chicago, said and was quoted on Bloomberg. "People want protection from a downdraft in stocks. You're seeing a lot of the flight-to-quality bid come into gold."
"Gold saw safe-haven buying support emerge Tuesday due to renewed worries about the European Union's economy and its financial system," noted Jim Wyckoff of Kitco News.

"A report in the Wall Street Journal questioned the viability of the stress tests that were conducted on EU financial institutions recently. That pressured the Euro currency and boosted the U.S. dollar index, as the greenback is also considered a safe-haven investment asset, along with gold and U.S. Treasuries."
In PM London bullion, the benchmark gold price was fixed to $1,256.75 an ounce, advancing $7.75 from the PM price on Monday. Silver lost 21 cents to $19.650 an ounce. Platinum settled at $1,556.00 an ounce, falling $6.00. Palladium was unchanged at $529.00 an ounce.
In United States Mint gold coin news, the U.S. Mint has started producing 2010 proof Gold Eagles. The companion coins to the bullion versions are expected out in mid-October. The 22 karat gold pieces will be issued in four sizes, ranging from a tenth-ounce to one ounce.
Oil and gasoline prices
New York crude oil for December delivery fell 51 cents, or 0.7 percent, to close at $74.09 a barrel.
The Wall Street Journal's stress-tests report "really spooked the markets and has caused a good deal of risk aversion," Matt Smith, commodity analyst at Summit Energy in Louisville, Ky. said and was quoted on MarketWatch. "We saw Europe sell off, we saw money piling into safer assets. Hence, we are seeing crude selling off. It's been a flight to safety."
The national average for regular unleaded gasoline declined one-tenth of a cent to $2.682 a gallon, according to AAA fuel data. The price is a half penny higher than a week ago, 9.4 cents lower than a month back, and 9.9 cents higher than the price from a year ago.
U.S. Stocks
The aforementioned concerns over European banks coupled with anxiety over economic growth was said to pressure stocks.
"Investors are questioning the shape of the banks, because reports are saying that their sovereign debt holdings are weaker than previously thought," Anthony Conroy, head trader at BNY ConvergEx Group said and was quoted on Reuters. "People see this news coming out and begin to worry more about a possible double-dip [recession], because you can't have a healthy economy without healthy financials."
The Dow Jones industrial average lost 107.24 points, or 1.03 percent, at 10,340.69. The S&P's 500 Index declined 12.67 points, or 1.15 percent, at 1,091.84. The Nasdaq Composite Index fell 24.86 points, or 1.11 percent, at 2,208.89.