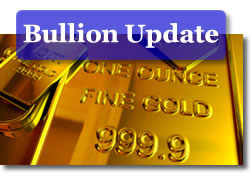 U.S. gold futures fell for a third straight day Thursday as the possibility of debt deals in the U.S. and Greece tarnished safe-haven demand, opined analysts.
August gold prices declined $9.90, or 0.6 percent, to $1,587.00 an ounce on the Comex in New York. Prices ranged between $1,585.50 and $1,605.00.
"The EU summit… and the deadlock in the U.S. debt issue discussions are curbing the metal (gold) in narrow range," Pradeep Unni, senior analyst at Richcomm Global Services, said according to Reuters. "It's almost certain that Greece will be bailed out, and Germany and France have given their consent. (If we have) a bailout proposal for Greece and… if a temporary solution is reached in United States, expect gold to spike down to the 1,559-1,555 zone."
Silver prices for September delivery settled down 61.1 cents, or 1.5 percent, to $38.947 an ounce, trading between $38.875 and $40.375. Jim Wyckoff of Kitco Metals Inc. wrote the following of silver in the Thursday Kitco Metals Roundup:
"December silver futures prices closed nearer the session low Thursday and saw more profit taking. The key 'outside markets' were also fully bullish for silver today, as the U.S. dollar index was lower and crude oil prices were solidly higher. Yet, silver could not rally, which is a bearish near-term technical clue.

The silver bulls still have the overall technical advantage. Bulls' next upside price objective is producing a close above solid technical resistance at this week's high of $40.90 an ounce. The next downside price breakout objective for the bears is closing prices below solid technical support at $38.00.

First resistance is seen at $39.50 and then at $40.00. Next support is seen at Thursday's low of $38.93 and then at $38.50. Wyckoff's Market Rating: 6.5."
Platinum and palladium bucked the declining trend of gold and silver.
Platinum prices for October delivery gained $11.70, or 0.7 percent, to close at $1,787.80 an ounce. They reached a low of $1,776.30 and a high of $1,792.00.
Palladium prices for September delivery rallied $15.35, or 1.9 percent, to settle at $809.00 an ounce. The metal traded from $793.60 to $809.65.
Precious metals rebounded in London when comparing the London fixings from Wednesday (PM) to Thursday (PM). Gold gained $15.00 to $1,601.00 an ounce, silver advanced $1.19 at $39.780 an ounce, platinum gained $16.00 to $1,780.00 an ounce, and palladium advanced $10.00 at $799.00 an ounce.
United States Mint American Silver Eagle bullion coins remained flat for a third straight day, according to the newest sales figures from the bureau. The only bullion coin to rise was the one-ounce American Gold Eagle. It rallied 4,000, brining its year-to-date total to 541,000. The latest United States Mint bullion product sales figures follow:
US Mint American Eagle and Buffalo Bullion Coin Sales
Daily
Gains
June
2011
July
2011
YTD
2011
Gold Eagle Coin (1 oz.)
4,000
56,000
33,500
541,000
Gold Eagle Coin (1/2 oz.)
0
0
3,000
58,000
Gold Eagle Coin (1/4 oz.)
0
8,000
0
64,000
Gold Eagle Coin (1/10 oz.)
0
35,000
5,000
255,000
Gold Buffalo Coin (1 oz.)
0
5,500
8,500
88,000
Silver Eagle (1 oz.)
0
3.402M
1.9695M
24.273M
America the Beautiful 5 Oz. Silver Bullion Coin Sales*
YTD
2011
Gettysburg National Military Park 5 oz.
126,700
Glacier National Park 5 oz.
126,700
Olympic National Park 5 oz.
80,700*
Vicksburg National Military Park 5 oz.
21,800*
*The United States Mint did not provide new per coin sales totals for the Olympic and Vicksburg America the Beautiful Five Ounce Silver Bullion Coins, and the individual numbers above are as of Monday, July 11. The Mint did, however, on Tuesday, July 19, indicate that the series of coins advanced 8,600 as compared to the previous week. July total sales for the series is at 11,400 coins.