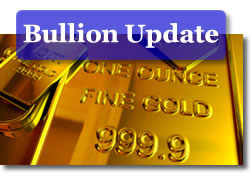 U.S. gold prices extended their gains to five straight sessions on Monday, supported by safe-haven worries that European nation debt issues could widen to other countries.
"Concerns over unresolved debt issues in the monetary union continue to haunt investors," Andrey Kryuchenkov, an analyst at VTB Capital in London, said in a report that was cited on Bloomberg. "A prolonged period of ultra-low currency yields and persistently dovish tone from the Federal Reserve will likely be supportive" for gold, he said.
August gold prices gained $7.60, or 0.5 percent, to close at $1,549.20 an ounce on the Comex in New York. Gold touched a low of $1,542.10 and a high of $1,557.60 — its highest level since June 22.
"The latest in data from the CFTC indicates that net speculative length in gold contracts fell once again last week; albeit less sharply than it did in the prior week," noted Jon Nadler, Senior Analyst at Kitco Metals Inc., in his daily "In The Lead" precious metal article. "Nearly 24 tonnes of longs' worth of positions evaporated last week despite a 4% weekly gain in the yellow metal. (See prior week bullion gains.) Analysts at Standard Bank (SA) caution that they are 'beware of the build-up of speculative short positions [in gold]'."
Silver prices for September delivery settled down 84.5 cents, or 2.3 percent, to $35.698 an ounce. Silver traded between $35.540 and $36.950.
Nadler also wrote that: "Silver's short positions declined to 754.7 tonnes and it appears to point to the fact that (also in Standard Bank's opinion) players are possibly "ignoring the market's bearish attitude." As for the players' positioning in platinum, SB notes that a further, modest increase in short platinum positions last week "shows a speculative market decidedly bearish on Pt, which leaves the metal vulnerable." The same however cannot be said about palladium; its long positioning remains robust and is underscoring the fact that "investors are more confident about Pd's prospects than those of platinum."
Platinum prices for October delivery declined $5.10, or 0.3 percent, to close at $1,728.30 an ounce. They ranged between $1,726.10 and $1,740.80.
Palladium prices for September delivery ended at $767.45 an ounce, dropping $11.50 or 1.5 percent. Palladium traded from $765.00 to $776.75.
London bullion prices were mixed as well. When comparing London Fix prices on Monday (PM) from those on Friday (PM), gold rose $14.00 to $1,555.50 an ounce, silver advanced 8.0 cents at $36.360 an ounce, platinum declined $9.00 to $1,731.00 an ounce, and palladium declined $6.00 at $770.00 an ounce.
United States Mint reported bullion gains on Monday were limited to the one-ounce gold and silver coins. From highest to lowest, the Silver Eagle rose 363,500, the Gold Eagle advanced 2,500 and the Gold Buffalo rose 500. The latest available bullion coin sales figures are provided in the table below:
US Mint 2011 Bullion Coin Sales
Daily
Gains
July
2011
YTD
2011
Gold Eagle Coin (1 oz.)
2,500
13,500
521,000
Gold Eagle Coin (1/2 oz.)
0
1,000
56,000
Gold Eagle Coin (1/4 oz.)
0
0
64,000
Gold Eagle Coin (1/10 oz.)
0
5,000
255,000
Gold Buffalo Coin (1 oz.)
500
2,500
82,000
Silver Eagle (1 oz.)
363.5K
1.1135M
23.417M
ATB Silver Bullion (5 oz.)*
0
0
326,800
*America the Beautiful (ATB) Silver bullion coin sales figures are not published by the United States Mint daily. The current year-to-date figure has an "as of date" of July 5.