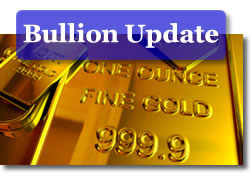 U.S. gold futures rose $30.10 Tuesday, registering their biggest single day pick-up since early November. Reports of a potential rate increase in China and a poorer credit outlook for Chinese banks were among factors analysts proffered for gains.
"Certainly, the Chinese stories this morning have helped (gold)," said Credit Suisse analyst Tom Kendall, according to Reuters. "We have seen a bit of buying coming back in from some of the institutional names that have been absent for a while, and positioning in gold is a lot less from shorter-term players than it has been."
August gold prices jumped 2.0 percent to settle at $1,512.70 an ounce on the Comex in New York. Gold prices ranged between $1,486.20 and $1,512.50.
"The crack in the armor out of China is keeping gold well bid," said Adam Klopfenstein, a senior market strategist at Lind-Waldock in Chicago, according to Bloomberg.
Silver prices for September delivery soared $1.705, or 5.1 percent, to close at $35.410 an ounce. Silver prices traded from a low of $33.795 to a high of $35.330.
Platinum prices for October delivery settled up $25.30, or 1.5 percent, to $1,742.10 an ounce. Prices ranged between $1,712.00 and $1,742.70.
Palladium prices for September delivery rallied $18.20, or 2.4 percent, to close at $775.65 an ounce. Palladium prices traded from a low of $754.15 to a high of $775.80.
London precious metals prices rose to a lesser degree as compared to futures in New York. When comparing London Fix prices on Tuesday (PM) from those on Friday (PM), gold advanced $15.00 to $1,510.00 an ounce, silver rose 66.0 cents at $34.760 an ounce, platinum advanced $9.00 to $1,731.00 an ounce, and palladium gained $14.00 at $772.00 an ounce.
The United States Mint reported sales increases across most of its bullion coin offerings. In bullion American Eagle coins, all but the two smallest sized Gold Eagles advanced. The latest available figures are provided in the table below:
US Mint 2011 Bullion Coin Sales
Daily
Gains
July
2011
YTD
2011
Gold Eagle Coin (1 oz.)
3,000
3,000
510,500
Gold Eagle Coin (1/2 oz.)
1,000
1,000
56,000
Gold Eagle Coin (1/4 oz.)
0
0
64,000
Gold Eagle Coin (1/10 oz.)
0
0
250,000
Gold Buffalo Coin (1 oz.)
500
500
80,000
Silver Eagle (1 oz.)
386,000
386,000
22.6895M
ATB Silver Bullion (5 oz.)*
–
–
345,800
*America the Beautiful (ATB) Silver bullion coin sales figures are not published by the United States Mint daily. The current year-to-date figure has an "as of date" of June 27.