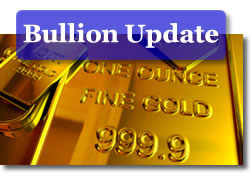 U.S. gold and silver futures rose for a second straight day Wednesday as a weaker U.S. dollar, sharply higher crude oil prices and bargain-hunting pushed up precious metals prices.
August gold prices advanced $10.20, or 0.7 percent, to $1,510.40 an ounce on the Comex in New York. Gold prices ranged between $1,500.80 and $1,513.80.
"When gold gets to a reasonable level, we do see the buyers come in," Frank Lesh, a trader at FuturePath Trading LLC in Chicago, was quoted on Bloomberg. "Just because of the Greece vote, it doesn't mean that Greece has solved all its problems. All of the drivers for gold remain."
"There is a lot of concern whether or not we can justify the debt ceiling and also talking about a stimulus program at the same time. That's going to continue to weaken the dollar and that's why we have the rise in gold," Bruce Dunn, vice president of trading at bullion dealer Auramet, was quoted on Reuters.
Silver prices for September delivery, now the most active contract, surged $1.117, or 3.3 percent, to settle at $34.769 an ounce. Silver prices touched an intraday low of $33.860 and reached a high of $34.910. Jim Wyckoff of Kitco Metals Inc. noted the following on Wednesday:
"July silver futures prices closed near the session high Wednesday on short covering and bargain-hunting. While prices are still in a four-week-old downtrend on the daily bar chart, the bulls did regain some fresh upside near-term technical momentum Wednesday.

The next downside price breakout objective for the bears is closing prices below solid technical support at this week's low of $33.38. Bulls' next upside price objective is producing a close above solid technical resistance at last week's high of $36.77 an ounce.

First resistance is seen at $35.00 and then at $35.42. Next support is seen at $34.50 and then at $34.00. Wyckoff's Market Rating: 5.5."
Platinum prices for October delivery advanced $33.10, or 2.0 percent, to close at $1,726.60 an ounce. They ranged between $1,695.50 and $1,735.30.
Palladium prices for September delivery rose $16.75, or 2.3 percent, to settle at $751.90 an ounce. They traded between $734.75 and $754.00.
London bullion prices enjoyed healthy gains as well. When comparing London Fix prices on Wednesday (PM) from those on Tuesday (PM), gold advanced $5.25 to $1,504.25 an ounce, silver rose 43 cents at $34.390 an ounce, platinum advanced $24.00 to $1,716.00 an ounce, and palladium gained $9.00 at $743.00 an ounce.
The United States Mint reported sales increases for its one-ounce American Eagle bullion coins. The Gold Eagles rose 3,500, which brought them to 503,500 for the year. The Silver Eagles advanced 426,000, bringing them above 22.2 million for the year.
US Mint 2011 Bullion Coin Sales
Daily
Gains
June
2011
YTD
2011
Gold Eagle Coin (1 oz.)
3,500
52,000
503,500
Gold Eagle Coin (1/2 oz.)
0
0
55,000
Gold Eagle Coin (1/4 oz.)
0
8,000
64,000
Gold Eagle Coin (1/10 oz.)
0
35,000
250,000
Gold Buffalo Coin (1 oz.)
0
4,000
78,000
Silver Eagle (1 oz.)
426,000
3.374M
22.2755M
ATB Silver Bullion (5 oz.)*
0
19,000
345,800
*America the Beautiful (ATB) Silver bullion coin sales figures are not published by the United States Mint daily. The current figure has an "as of date" of June 27.