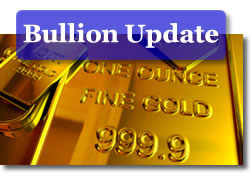 Three of the four major precious metals advanced Monday. Platinum was the hold out. Gold prices rose for a fifth straight session, supported by Greece's sovereign-debt issues which pushed up the yellow metal last week.
"There's a lot of nervous trades over the Greek debt situation," Frank Lesh, a trader at FuturePath Trading LLC in Chicago, was quoted on Bloomberg. "Investors are seeking stability and safety. Gold is the international currency."
August gold prices rose $2.90, or 0.2 percent, to $1,542.00 an ounce on the Comex in New York. They hit a low of $1,533.60 and touched a high of $1,548.20.
"It's treading water, you're not going to get too much movement either way until we get more clarification as to what happens on Greece," Credit Agricole analyst Robin Bhar said according to Reuters.

"The market is hungry for an actual agreement to be signed, sealed and dusted … equities have come off this morning, the dollar is probably better bid than it was and markets are just starting the week slightly risk averse having had a good bounce on Friday."
Silver prices for July delivery rose 32.3 cents, or 0.9 percent, to settle at $36.071 an ounce. Silver prices ranged between $35.260 and $36.200.
Platinum prices for July delivery declined $21.60, or 1.2 percent, to close at $1,730.50 an ounce. They traded between $1,727.10 and $1,768.00.
Palladium prices for September delivery rose $2.80, or 0.4 percent, to $748.20 an ounce. Palladium prices moved between $733.10 and $751.00.
London precious metals prices were mixed overall, as gold and silver gained and platinum and palladium fell. When comparing London fix prices on Monday (PM) from those on Friday (PM), gold rose $6.50 to $1,544.00 an ounce, silver rose 19.0 cents at $35.580 an ounce, platinum declined $24.00 to $1,727.00 an ounce, and palladium prices declined $16.00 at $738.00 an ounce.
Four of five American Eagle bullion coin levels advanced Monday, according to the latest sales figures from the United States Mint. American Silver Eagles led that way, as typical. Their daily increase of 623,500 brought them to over 21 million for the year. That milestone was not achieved in record-breaking 2010 until late July. In a rarity of late, three of the four American Gold Eagle bullion pieces rose. The one-half ounce Gold Eagle remained unchanged, as has been the case during the entire month of June.
The United States Mint did release the Vicksburg silver bullion coin on Monday. Its debuting performance is not yet available, however.
The latest available bullion coin sales figures follow:
US Mint 2011 Bullion Coin Sales
Daily
Gains
June
2011
YTD
2011
Gold Eagle Coin (1 oz.)
3,000
36,000
487,500
Gold Eagle Coin (1/2 oz.)
0
0
55,000
Gold Eagle Coin (1/4 oz.)
2,000
4,000
60,000
Gold Eagle Coin (1/10 oz.)
5,000
25,000
240,000
Gold Buffalo Coin (1 oz.)
0
1,000
75,000
Silver Eagle (1 oz.)
623,500
2.4905M
21.392M
ATB Silver Bullion (5 oz.)*
0
0
326,800
*ATB Silver bullion coin sales figures are not published by the Mint daily. The current figure has an "as of date" of June 12.