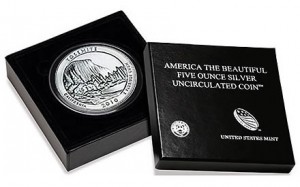 The United States Mint reported brisk sales of its newly released Yosemite National Park Five Ounce Silver Uncirculated Coin. Between its launch on Thursday and Sunday, orders reached 20,511. At the $279.95 price, that equates to just over $5.74 million in sales during their first four days.
An impressive tally, but it is slightly lower than starting sales of the first two issues from the Mint's collector America the Beautiful Five Ounce Silver Uncirculated Coin Series. The Hot Springs and the Yellowstone uncirculated coins each reached about 19,000 on their opening day.
Both silver coins sold out in about two weeks. That tends to suggest that the Yosemite National Park Five Ounce Silver Uncirculated Coin is headed for an eventual sell out as well given its current sales pace.
The United States Mint has removed the "Waiting List" verbiage on the coin's sales page, which hints at the possibility that little to no warning will be provided as a sell out approaches. The second Yellowstone uncirculated coin sold out without the waiting list option implemented. The first Hot Springs uncirculated coin did rely on it for several days. The Waiting List offers customers the chance to place an order for a sold out coin, and then have it process if an older order is cancelled.
Still up for release this year in the collector five-ounce category are the two remaining 2010-dated Grand Canyon and Mount Hood releases, and all five of the 2011 issues. The United States Mint has not yet published when these silver coins will be made available.
Each coin in the series includes five ounces of .999 fine silver, has a diameter of 3.0 inches, and a thickness of 0.165 inches. The obverse and reverse share the same designs as the corresponding America the Beautiful Quarter minted for circulation. However, while the quarters have a reeded edge the five ounce coins have edge letterings of ".999 FINE SILVER 5.0 OUNCE."
The Yosemite National Park Five Ounce Silver Uncirculated Coin may be purchased through the United States Mint website located at http://catalog.usmint.gov/.