PCGS Currency has announced the winners of the 2011 PCGS Currency Set Registry Awards, and announced the first entry into the PCGS Currency Hall of Fame.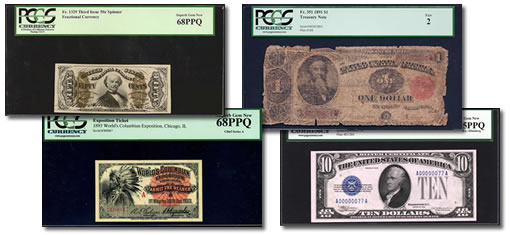 The award-winning collections were honored at the annual PCGS Currency Set Registry awards dinner at the International Paper Money Show in Memphis, Tennessee, on June 9, 2011.
"The interest and participation in the PCGS Currency Set Registry has exploded in the last year," stated Laura A. Kessler, Vice President of PCGS Currency and head of the Set Registry marketing efforts. "Participation has doubled in terms of both the number of participants and individual collections. There are some mind-blowing sets listed in the Registry, which makes selecting winners in each category extremely challenging."
Collectors are currently participating in more than 2,000 registered sets on the Set Registry.
"Not just top-level or wealthy collectors are participating," explained Kessler. "We have a wide range of sets that appeal to many different types of collectors, from some world-class collections of high-end type notes and National Bank Notes, to the rapidly expanding competition in the Disney Dollar category."
The award winners in each PCGS Currency Set Registry category for 2011 are:
Best Collection of the Year
"CCCurrency" — Ron Foley.
"Each year we choose an overall winner with the most impressive array of collections across the entire spectrum of the Set Registry competition. This year's winner exemplifies the Set Registry concept, as many of his sets were begun in years past but with continual additions and upgrades," said Kessler. "Mr. Foley is a past Best Collection winner (2009), but his upgrades in his many sets are impressive.
Competing in 82 different sets, the CCCurrency Collection is ranked first in an incredible 37 different categories. The majority of his sets are 100 percent complete, and all of his weighted grade point averages are 64 or above — with most in the 68, 69, and 70 range! We'd like to thank Mr. Foley for his continued leadership in the Set Registry, and for providing competition to other members in so many different areas. Congratulations once again, Mr. Foley, for a well-deserved victory in our most important competition of the year."
Best New Set of 2011
"Vito Corleone (The Godfather)" — Small Size Silver Certificate Type Set.
"With more than 1,000 new sets in the PCGS Currency Set Registry since last year, this was one of the most difficult winners for our judges to choose. So many new sets are impressive in so many ways, and pinning down one outstanding set was a daunting task. After much debate, this set continued to impress our judges every time it was reviewed," explained Kessler.
"While consisting of just nine notes, this is a difficult set to complete in high grade as the 1933 $10 is always a 'stopper.' This set includes a Gem New 65PPQ example of that scarce series, which is currently a 'pop 2' with only one note finer. Of the other eight notes in this set, three others are "top pop" for their respective types. The remaining five notes are superlative representatives of their types with only one or two known finer examples. The weighted GPA of 69.1 is theoretically improvable, but what a start for a new set!"
Best Large Size Type Notes
"Gopher State Collection" — $1-$20 Large Size Denomination Set.
"This is a difficult set that includes 96 different notes, comprising the wide variety of different large size design types of $1, $2, $5, $10, and $20 notes issued by the U.S. government between 1861 and 1928. The "Gopher State Collection" is by far the most complete collection in this category, and in fact is missing just three notes — all of which can be considered rare types, the 1861 $20 Demand Note, the 1863 $20 Interest Bearing Note, and the $20 National Gold Bank Note. The weighted GPA of 46.2 on this collection is not stratospheric (and in fact could be improved upon), but the staggering nature of this collection and its completeness is enough to demonstrate this set's world-class nature," said Kessler.
"This collector is also a past winner with other sets, but this large size type note collection continues to grow and improve. The Gopher State Collection will only continue to be highly competitive in years to come as those rarer notes are added and as he continues to upgrade his other type notes."
Best Small Size Type Notes
"SDCSD" — Kraig Tripp — $5 Silver Certificate Set 1934-1953B with Varieties.
"Mr. Tripp's complete $5 Silver Certificate set with major varieties is impressive in the extreme — of the 16 notes needed for this set, the SDCSD set includes 13 'top pops' with no notes of each series and/or variety graded finer! His GPA of 62.417 is virtually unbeatable in this set, as the 1934A $5 Fr. 1651 Late Finished Face Plate 307 is unheard of in high grades (Kraig's is a VF 20PPQ)," Kessler pointed out.
"To say that this collector is a $5 Silver aficionado is an understatement. This collection ranks as one of the finest sets of $5 Silver Certificates ever assembled, and Mr. Tripp's continuous upgrading efforts will likely make beating this set improbable for years to come."
Best Modern Small Size Type Notes
"The Skourtes Collection" –Michael Skourtes — 1976-2003A Complete $2 FRN Block Set.
"Mr. Skourtes is a repeat winner in this category, this year with his $2 FRN Block Set," said Kessler.
"His set GPA rating of 69.32 is out of an overall possible set rating of 70.30, and out of a total of 99 notes required for this set, more than half(!) are 'top pop' with no notes graded finer. Collecting 'modern' notes is a pursuit that is growing by leaps and bounds (see the fierce competition in the $1 Fed sets), and we expect that, as new sets are created in this category, that sets like Michael's will continue to be those that other participants will strive to duplicate — and to beat!"
Best National Bank Notes
"Godot" — Dr. Andrew Shiva — First Charter National Bank Note State Set.
"While this category was only added late last year before the 2010 awards, competition has heated up with new sets being added every month. Dr. Shiva has a plethora of fantastic National Bank Note sets, however the sheer magnificence of this set wins it top honors this year," said Kessler.
"This is the first 'complete' set ever assembled by any collector of the 45 first charter notes from the 44 states and DC that issued them, including a partial note from Mississippi — the only piece of a First Charter note ever heard of from this state. Grade is hardly important here, but many high grade pieces are included. Several unique notes and incredible rarities are also present, and National collectors of all stripes are encouraged to study this set as it is an impressive feat in every respect. Hard to beat, this set will undoubtedly inspire other Set Registry participants in the future."
Best Fractional Notes
"CCCurrency" — Ron Foley — Fractional Currency 24-Piece Design Set.
"For the third year in a row, Mr. Foley takes top honors in the Fractional Currency Category with his 24-piece design set. When Mr. Foley won this category last year, we stated in our press release that a better fractional set would be difficult to imagine. Ron did not rest on his laurels — his weighted GPS improved by three-tenths of a point to 68.15 out of a theoretically possible 68.963 with his upgrade," said Kessler.
"This is one of the most popular Set Registry sets, and with more and more collectors attempting to complete this challenging yet obtainable set it will be increasingly difficult to catch Ron — although several other collectors are close behind!"
Best Military Payment Certificates
"Stars & Stripes Collection" — Jeff Smith — Military Payment Certificates Complete Set.
"This is our first and only four-time winning set, and once again the choice was easy.  Jeff Smith won or tied in all but one of the setsin the MPC category. His complete collection was improved upon once again this year with several upgrades, as his weighted GPA rose to 65.98 out of a possible 67.998," explained Kessler.
"His set includes many 'top pop' notes and some great rarities. While the competition was much more interesting this year as a couple of notable sets are beginning to challenge that of Mr. Smith's, he continues to excel in adding to his impressive collection with more upgrades and it will be a challenge for any collector to trump this collection."
Best "Low Ball" Set
"Cliff's Incredibly Low Large Size Design Set" — Cliff Andrews — $1 Large Size Design Low Ball Set.
"Mr. Andrews is a four-time winner (or loser, depending on how you look at it) in this category, and while we didn't think he could do any worse than last year he proved us wrong," Kessler joked.
"This category always takes a bit of reverse logic to comprehend, as the idea here is to locate and acquire the worst possible examples of each type, although bonus points are given for notes that are not graded 'Apparent' with damage or repairs out of context with the assigned grade. This is not as easy a task as it may seem, as so many low grade notes were destroyed as they were worn out and removed from circulation.
Cliff once again outdid himself this year, as he reduced his weighted GPA from 3.298 to just 2.87! Even more impressive is the fact that it would be nearly impossible to 'improve' this set.  His overall set rating of 68.13 is out of a possible 68.447 points! Nobody has more fun with the Set Registry than Cliff, and his enthusiasm is contagious.  We challenge anyone (including Mr. Andrews) to, er, "'outdo' this set and improve upon his record of futility."
Best Block Set
"mfontes" — Mark Fontes — 1957B $1 Silver Certificate Block Set QA – *B.
"Mr. Fontes won this category last year with his '57A set, and this set is even more impressive in its completeness and grade point average. His incredible overall set rating of 70.0 is just below theoretically possible top rating of 71.706. Block sets will undoubtedly continue to be one of the fastest growing areas of the Set Registry, especially as new sets are introduced, and the popularity of this specialized area of collecting cannot be underestimated," said Kessler.
"With so many possibilities, and with the exciting concept of challenging sets from 'common' series that can be completed even with limited funds in the highest grades, get ready for the future of Block set collecting!"
Best "Exonumia" Set
"High Grade Rarities Collection" — Mark Green — Columbian Expo Admission Tickets and Special Day Passes.
"Columbian Expo tickets and related items have always had a close connection with currency collecting, so it's fitting that this year's winner comes from this previously oft-neglected category which is coming into its own in terms of popularity and importance.
No words can describe this collection better than the simple stats: 15 of the 16 tickets are 'top pop;' nine of the 16 are population 1 with none finer. In fact, only one single graded ticket exists that would improve this set. These types of statistics are what the Set Registry concept is all about," said Kessler.
The First Ever Hall of Fame Collection Entry
"SDCSD" — Kraig Tripp — Small Size $5 Silver Certificate Type Set.
"For the first time ever, PCGS Currency is recognizing an outstanding set with entry in the Set Registry Hall of Fame. Kraig Tripp's Small Size $5 Silver Certificate type set is virtually unbeatable, with every single note a 'top pop' for its Friedberg number. The overall weighted grade point average of this set of 70.077 is out of a theoretically possible 70.231," Kessler explained.
"Mr. Tripp's award-winning set has won past accolades in the Small Size category, and his domination of the $5 Silver Certificate categories is legendary. Some of his other sets in this same exact category rank in second, third, and fifth place. The PCGS Currency Set Registry Hall of Fame is reserved for those sets that exemplify the Set Registry concept.  The combination of completion and the highest grades possible, with the fun and competition that completing these sets engenders with all collectors. This collection meets all these criteria, and will be a benchmark for future Hall of Fame entries in the future."
In addition to the awards listed above, the owners of 181 different sets receives "Best of the Registry" certificates awarded to collections that are ranked first in each category and are more than 75 percent complete.
Now in its fourth year, Tthe PCGS Currency Set Registry is an online competition that allows participants to compete with other collectors in numerous defined sets, ranging from Large and Small U.S. Type, Fractionals, MPCs, serial number block sets, and exonumia such as Disney Dollars and Columbian Expo Tickets.
PCGS Currency may be contacted at (309) 222-8200 or at info@PCGSCurrency.com.