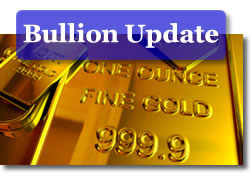 U.S. gold prices rose Monday, marking a second straight day of gains. Silver advanced 1.6 percent, its best pick-up in nearly two weeks and its first in four sessions. Safe-haven buying over economic concerns was a factor analysts pegged in driving demand for the precious metals.
August gold prices rose $4.80, or 0.3 percent, to $1,547.20 an ounce on the Comex in New York. Gold prices hit an intraday low of $1,541.60 and a high of $1,553.40.
"A lot of people are taking their risk off by getting out of the S&P 500 and other riskier assets," Phillip Streible, senior market strategist with Lind Waldock, said according to Reuters. "There is too much uncertainty with the U.S. currency and the euro. So, people think the safest place is the gold market at the moment."
Silver prices for July delivery advanced 58.9 cents to settle at $36.780 an ounce, trading between $35.09 and $37.29. The gain was silver's best since surging $1.51 on May 25.
"Weak U.S. economic data last week are strengthening expectations that the Federal Reserve will maintain key interest rates at the current very low level for even longer, which will keep the opportunity costs for precious metals low," analysts at Commerzbank said in a note to clients.
In PGM futures, platinum prices for July delivery declined $2.50, or 0.1 percent, to settle at $1,821.20 an ounce and palladium prices for September delivery advanced $13.30, or 1.7 percent, to close at $798.70 an ounce. In regards to the PGM's, Jon Nadler, Senior Analyst at Kitco Metals Inc., wrote the following in his daily commentary on Monday:
"The analytical team at Standard Bank (SA) noted this morning that while platinum and palladium have both rallied nicely in recent sessions, at least the former might have a bit of a tougher time rising towards the $1,900 target that has been projected to become reality prior to year's end, unless physical demand shows signs of a 'significant improvement.'

On the other hand, palladium could see its progress towards the $900 bulls-eye that forecasters have envisioned for it within the same timeframe being less difficult. This, as the market is in a better physical flows and futures contract positioning. In addition, palladium's cost of production (nearing $700 at this time) also presents a bolstering factor to mitigating potential sell-off related damage in prices.
London bullion advanced as a group. When comparing their fixing prices on Monday (PM) from those on Friday (PM), gold prices rose $9.00 to $1,549.00 an ounce, silver advanced $1.68 at $36.87 an ounce, platinum rose $12.00 at $1,819.00 and palladium advanced $19.00 to $789.00.
One-ounce American Gold Eagles were the only bullion coins to advance Monday, according to published sales figures from the United States Mint. The following are the latest U.S. bullion coin totals for June and 2011.
US Mint 2011 Bullion Coin Sales
Daily
Gains
June
2011
YTD
2011
Gold Eagle Coin (1 oz.)
3,500
21,500
473,000
Gold Eagle Coin (1/2 oz.)
0
0
55,000
Gold Eagle Coin (1/4 oz.)
0
0
56,000
Gold Eagle Coin (1/10 oz.)
0
15,000
230,000
Gold Buffalo Coin (1 oz.)
0
0
74,000
Silver Eagle (1 oz.)
0
47,000
18.9485 M
ATB Silver Bullion (5 oz.)*
0
0
326,800
*ATB Silver bullion coin sales figures are not published by the Mint daily. The current figure has an "as of date" of Thursday, May 27.