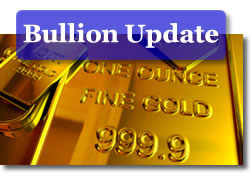 U.S gold futures finished lower Friday as the dollar rose against the euro after renewed concerns over Greece's debt crisis surfaced. The loss pushed gold below $1,500 an ounce, cutting its weekly gain to a whispering 0.1 percent.
Silver prices advanced to just above $35 an ounce. Its daily 0.6 percent pick-up was too modest however, as the white metal extended its weekly losing streak to two. But the resulting 0.8 percent loss was like a sigh of relief when compared against its 27.4 percent thrashing last week.
June gold prices declined $13.20, or 0.9 percent, to $1,493.60 an ounce on the Comex in New York. Gold traded between $1,482.00 and $1,516.40.
"Europe's sovereign-debt problems are going to be with us for some time," Frank Lesh, a trader at FuturePath Trading LLC in Chicago, said according to Bloomberg. "You still have a lot of investors reacting to last week's sell-off. There are still longs trapped above the market who are selling into the rally, and you've also got bargain hunters who come in on the dips."
Silver prices for July delivery rose 21.6 cents to settle at $35.013 an ounce, trading between $33.915 and $36.450. Debbie Carlson of Kitco News relays the following Barclays Capital expectations for silver:
Silver prices are likely to stay volatile as the market works through the recent price swings. Barclays Capital said silver will struggle to recapture the recent highs near $50 and will likely have trouble at $40.

"The volatile nature of its investment demand shows that prices of silver above $40/oz ultimately lack fundamental support, since the physical market will most likely be in a large surplus this year. In our view, silver prices will remain dicey going forward until we find support from the metal's industrial demand," the firm said in a research note.
Platinum prices for July delivery lost $1.70, or 0.1 percent, to close at $1,769.30 an ounce. It hit an intraday low of $1,757.00 and a high of $1,789.00.
Palladium prices for June delivery fell $10.40, or 1.5 percent, to settle at $706.45 an ounce. Prices moved between $702.15 and $724.55.
For the week, platinum lost 1.0 percent and palladium fell 1.4 percent.
London precious metals moved forward as a group on Friday but had mixed results for the week.
When comparing their PM fixings on Friday to those on Thursday, gold gained $16.25 at $1,505.75 an ounce, silver prices rose $3.70 at $36.20 an ounce, platinum added $14.00 at $1,774.00 an ounce, and palladium advanced $3.00 at $718.00 an ounce.
For the week, gains included 1.3 percent for gold and 5.8 percent for silver. Weekly losses were at 0.8 percent for platinum and 0.4 percent for palladium.
United States Mint bullion coins made solid advances on the week. The .999 fine American Silver Eagle jumped 805,000, its biggest weekly increase since February 25. Based on recent trends, the bullion coin should top the 17 million marker on Monday.
US Mint 2011 Bullion Coin Sales
Daily
Gains
Prior
Weekly
Weekly
Gains
May
2011
YTD
2011
Gold Eagle Coin (1 oz.)
4,000
53,500
19,000
72,500
430,500
Gold Eagle Coin (1/2 oz.)
1,000
13,000
7,000
20,000
53,000
Gold Eagle Coin (1/4 oz.)
0
4,000
0
4,000
56,000
Gold Eagle Coin (1/10 oz.)
0
10,000
5,000
15,000
215,000
Gold Buffalo Coin (1 oz.)
1,500
4,500
2,000
6,500
65,000
Silver Eagle (1 oz.)
85,000
701,000
805,000
1.506 M
16.754 M
ATB Silver Bullion (5 oz.)*
0
54,400
12,600
25,000
250,400
*Sales figures for the five-ounce America the Beautiful Silver Bullion Coin were last published by the United States Mint on Tuesday. All other sales figures have an "as of date" of Friday.