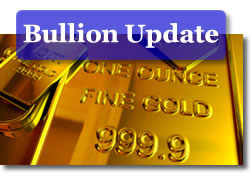 U.S gold futures prices rose for a third straight session and silver for a second on Tuesday. Bargain-hunting, inflation concerns, rising oil prices and worries over Europe's debt woes were among several factors analysts cited for precious metals' gains.
June gold prices added $13.70, or 0.9 percent, to close at $1,516.90 an ounce on the Comex in New York. Gold traded from a low of $1,505.20 to a high of $1,519.30. The yellow metal has gained 6.7 percent this year.
"From loose monetary policy to fiscal uncertainty and geopolitical unrest, those factors that have driven gold higher still exist. Until you see some normalization of those things, gold is going to stay higher," Mark Luschini, chief investment strategist of broker-dealer Janney Montgomery Scott, was quoted on Reuters. "Having taken a bigger blow than gold did in the sell-off last week, silver actually looks appealing."
"Inflation has already been on the rise in many emerging market countries, some say due to the U.S. quantitative easing policies, and many commodity markets remain at historically high levels. Gold, long considered a traditional hedge against inflation, could continue to garner strength if price pressures continue to build.

On the economic data front this week, metals traders are awaiting Wednesday's release of the Chinese inflation and industrial production figures, which could provide clues as to that government's next move to battle the rising prices seen there.  Higher-than-expected inflation figures could be supportive to gold prices."
Silver prices for July delivery jumped $1.370, or 3.7 percent to $38.486 an ounce, trading between $37.300 and $38.695. The white metal rose 5.2 percent Monday, contributing toward a two-day rally of 9.1 percent. Silver plummeted 27.4 percent in the previous week. It has risen 24.4 percent in 2011.
Platinum prices for July delivery added $5.80, or 0.3 percent, to close at $1,800.90 an ounce. Platinum hit an intraday low of $1,789.50 and a high of $1,807.80. The precious metal is up 1.3 percent this year.
Palladium prices for June delivery advanced $3.65, or 0.5 percent, to $732.65 an ounce. Prices ranged between $727.25 and $740.75. Palladium has plunged 8.8 percent in 2011.
When comparing London PM bullion fixings on Tuesday to those on Monday, palladium declined while the other metals rose. Gains included gold for $11.50 at $1,513.50, silver for 40.0 cents at $38.400 and platinum for $2.00 at $1,793.00. Palladium lost $34.00 at $733.00.
In United States Mint bullion product sales, advanced were limited to the one-ounce gold bullion coins, and those rose modestly. The American Gold Eagle coin picked up 1,500 and the American Gold Buffalo coin added 500. The latest bullion coin sales figures as provided by the Mint follow:
US Mint 2011 Bullion Coin Sales
Daily
Gains
May
2011
YTD
2011
Gold Eagle Coin (1 oz.)
1,500
67,000
425,000
Gold Eagle Coin (1/2 oz.)
0
17,000
50,000
Gold Eagle Coin (1/4 oz.)
0
4,000
56,000
Gold Eagle Coin (1/10 oz.)
0
15,000
215,000
Gold Buffalo Coin (1 oz.)
500
5,000
63,500
Silver Eagle (1 oz.)
0
1,421,000
16,669,000
ATB Silver Bullion (5 oz.)*
0
54,400
237,800
*Sales figures for the five-ounce America the Beautiful Silver Bullion Coins were last published by the United States Mint on Monday, May 2. All other sales figures are as of Tuesday, May 10.