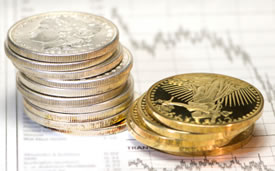 Gold rebounded from a two-week low on Wednesday to a seven-month high on Thursday as buying sparked from news of austerity steps in Spain and hopes for new stimulus measures in China.
Gold prices for December delivery rallied $26.90, or 1.5%, to $1,780.50 an ounce on the Comex in New York — the biggest gain since September 13. The settlement price was the highest since gold closed at $1,788.40 an ounce on February 28. Prices traded from an intraday low of $1,753.20 to a high of $1,782.90.
"The precious metals made a midday surge, to extend earlier price gains, on news that Spain's government announced its budget plan will meet deficit targets this year, which the market place greeted with approval," Jim Wyckoff noted in the PM Kitco Metals Roundup.

"Meantime, growing optimism that China will further stimulate its economy following a big central bank injection of liquidity into China's financial system earlier Thursday also helped to give the precious metals markets a boost."
In other New York bullion prices:
Silver for December delivery surged 72.6 cents, or 2.1%, to settle at $34.666 an ounce. Silver ranged from $33.905 to $34.815.

Platinum for January delivery added $11.90, or 0.7%, to $1,651.10 an ounce, trading between $1,632.60 and $1,662.90.

Palladium for December delivery advanced $9.55, or 1.5%, to $635.40 an ounce, ranging from $626.30 to $637.95.
London Bullion Prices
Precious metals in London were higher as well. In contrasting the latest London PM fixings:
Gold tacked on $18.25, or 1.0%, to $1,763.00 an ounce,
Silver added 7.0 cents, or 0.2%, to $33.95 an ounce,
Platinum advanced $31.00, or 1.9%, to $1,652.00 an ounce, and
Palladium rose $10.00, or 1.6%, to $634.00 an ounce
U.S. Mint Bullion Coins
U.S. Mint bullion sales advanced for the third time this week.
22-karat American Eagle gold coins gained 7,000 ounces for a September total of 68,500 ounces. That marks the best monthly amount since January.
99.9% fine American Eagle silver coins rose by 30,000 to 3,255,000. The coins on Monday had already logged the highest monthly total since January.
In other U.S. Mint bullion product sales Thursday, 24-karat American Buffalo gold coins climbed 500 and 99.9% fine America the Beautiful Five Ounce Silver Bullion Coins rose 200.
Below are the latest daily, September and year-to-date bullion sales as published by the U.S. Mint.
Sales of US Mint American Eagle and Buffalo Bullion Coins
Daily Sales
September Sales
YTD 2012
$50 American Gold Eagle Bullion Coins
6,500
63,000
410,500
$25 American Gold Eagle Bullion Coins
0
2,000
61,000
$10 American Gold Eagle Bullion Coins
0
4,000
62,000
$5 American Gold Eagle Bullion Coins
5,000
35,000
250,000
$50 American Gold Buffalo Bullion Coins
500
8,500
96,500
American Silver Eagle Bullion Coins
30,000
3,255,000
25,795,000
Sales of America the Beautiful 5 Oz. Silver Bullion Coins
Daily Sales
September Sales
All-Time Total
2012 El Yunque National Forest 5 oz. Silver Coins
0
1,200
17,900
2012 Chaco Culture National Historical Park 5 oz. Silver Coins
200
200
17,200
2012 Acadia National Park 5 oz. Silver Coins
0
2,900
18,000
2012 Hawai'i Volcanoes 5 oz. Silver Coins
0
10,400
10,400
2011 Olympic National Park 5 oz. Silver Coins
0
0
85,900
2011 Vicksburg National Military Park 5 oz. Silver Coins
0
0
39,500
2011 Chickasaw Park 5 oz. Silver Coins
0
0
29,700
TOTAL
200
14,700
218,600
Sales figures above are in the number of coins sold, not in the amount of ounces sold.