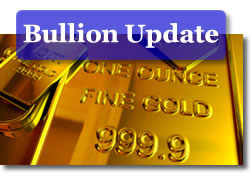 Silver futures prices fell for a fifth straight session on Friday, capping a weekly loss of 27.4 percent and closing out its worst week in decades.
Gold and other metals advanced Friday, but they ended lower on the week with palladium falling 9.6 percent and gold and platinum each dropping 4.2 percent.
On Friday, silver prices for July delivery declined 95.3 cents, or 2.6 percent, to close at $35.287 an ounce. They ranged from $33.035 to $36.430. Higher margin requirements by CME Group were attributed in pressuring the metal.
"The higher cash-margin requirements simply cannot be met by all participants, and when a trader can't make margin, the underlying security is often liquidated," Lachlan Shaw, a commodity analyst at Commonwealth Bank of Australia, wrote in a note cited on Bloomberg. "Further silver price falls are possible."
Bloomberg reports that it was the worst week for silver "since at least 1975." Silver prices plunged $13.31 since last Friday when they had closed at $48.599 an ounce and highlighted an April increase of 28.3 percent. Despite heavy weekly losses, however, the precious metal is still 14.1 percent higher on the year.
"There is no reason why silver should have taken such a big hit. It's all margin-related," COMEX floor option trader Dominic Cognata was quoted on Reuters. "At some point, it becomes a buying opportunity for people who missed out on the last silver rally to get back in right now."
June gold prices rose $10.20, or 0.7 percent, to close at $1,491.60 an ounce on the Comex in New York. Gold futures hit a low of $1,471.10 and reached a high of $1,498.50. Gold has gained 4.9 percent in 2011.
Platinum prices for July delivery added $8.20, or 0.5 percent, to settle at $1,786.40 an ounce. Platinum traded between $1,768.70 and $1,803.70. The metal has risen a modest 0.5 percent this year.
Palladium prices for June delivery ended up $5.50, or 0.8 percent, to $716.30 an ounce. They ranged from $706.50 to $733.50. Palladium has dropped 10.9 percent in 2011. In regards to the precious metal, Jon Nadler, Senior Analyst at Kitco Metals Inc., noted the following in his Friday Kitcommentary.
"We now bring you the latest in palladium market fundamentals courtesy of the just-released analytical data from London-based firm GFMS. The corollary to the developments in the palladium niche last year was the market's return to a deficit situation. GFMS labels the 550,000 ounce shortfall in the noble metal as a "substantial gross deficit." The turning into a deficit in palladium is the first such tilt since the year 2000. The rest of the supply and demand bullet-points shape up as follows:

Mine production of palladium climbed by 5% as South African output recovered its lost footing.

Scrap supplies of the metal grew by 20% on rising prices (the metal doubled in value in 2010).

Autocatalyst demand surged by 30% to 1.2 million ounces; a ten-year high.

Electronics-related demand for palladium witnessed a "notable" recovery, rising to a 10-yr high.

Jewellery demand fell sharply, declining by 300K ounces, primarily on lower Chinese demand.

Projections call for a once-again (albeit perhaps smaller than 2010) large gross deficit for 2011.

Palladium might achieve a $975/ ounce price in 2011.

ETF will likely continue to show "interest" in the noble metal

Russian palladium sales from government stockpiles might be trending towards a "winding down."

Russia may have sold as much as 800,000 ounces of palladium to the market last year.

In a nutshell, here is a precious metal that, unlike gold and silver, and unlike its cousin — platinum — is in a position of fundamentals-related strength, has two notoriously unreliable sources of supply (Russia and South Africa), and has a demand base of users (the world's carmakers) who cannot afford to postpone buying it, cannot resort to convenient substitutions, and must incorporate it into every conveyance they build. Now that kind of amalgamation of market metrics is one that inspires investment confidence."
London precious metals PM fix prices fell against their previous PM fixings. The PM gold fix lost $24.50 at $1,486.50 an ounce. Silver stepped back $3.64 at $34.200 an ounce. The platinum fix declined $13.00 at $1,789.00 an ounce. Palladium retreated $8.00 at $721.00 an ounce. Weekly losses came in at 9.6 percent for silver, 1.6 percent for gold, 0.7 percent for platinum and 1.1 percent for palladium.
All United States Mint investment-grade bullion coin products advanced on the week and, with the exception of silver bullion coins, on the day. The American Eagle Gold coins enjoyed one of their biggest daily sales days in weeks.
US Mint 2011 Bullion Coin Sales
Daily
Gains
Prior
Weekly
Weekly
Gains
May
2011
YTD
2011
Gold Eagle Coin (1 oz.)
35,000
29,500
53,500
53,500
411,500
Gold Eagle Coin (1/2 oz.)
3,000
11,000
13,000
13,000
46,000
Gold Eagle Coin (1/4 oz.)
2,000
12,000
4,000
4,000
56,000
Gold Eagle Coin (1/10 oz.)
5,000
25,000
10,000
10,000
210,000
Gold Buffalo Coin (1 oz.)
1,500
7,000
4,500
4,500
63,000
Silver Eagle (1 oz.)
0
718,000
701,000
701,000
15,949,000
ATB Silver Bullion (5 oz.)*
0
183,400
54,400
54,400
237,800
*Sales figures for the five-ounce America the Beautiful Silver Bullion Coin were last published by the United States Mint on Monday. All other sales figures are as of Friday.