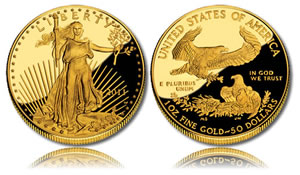 The United States Mint began selling 2011 American Gold Eagle Proof Coins on Thursday, April 21. Buyers ordered more than $27.7 million worth of the 22-karat collector coins by Sunday, April 24.
The Gold Eagle products include coins in four sizes — one ounce, half ounce, quarter ounce and tenth ounce with respective denominations of $50, $25, $10 and $5. The United States Mint also offers a four-coin set with each of the coins in a single blue velvet, satin-lined presentation case.
The opening performances for each of the gold coin products were:
2011 American Gold Eagle Proof Coin Sales Debut
PRODUCT
LIMIT
MINTAGE
LIMIT
OPENING
PRICES
COINS
SOLD
4-DAY
SALES
1 oz
30,000
70,000
$1,735.00
7,249
$12,577,015
1/2 oz
15,000
55,000
$881.00
1,159
$1,021,079
1/4 oz
16,000
56,000
$453.00
1,313
$594,789
1/10 oz
30,000
70,000
$195.50
3,680
$719,440
4-Coin Set
40,000
N/A
$3,215.50
3,988
$12,823,414
Combined, the United States Mint had sales of $27,735,737. That is a respectable inflow of money, but the level was nearly $19.6 million lower than opening sales for last year's issues over the same number of days. But then the circumstances between the two years' releases are substantially different.
Key differentiating factors between the proof coins from 2010 and 2011 include timing, prices, and expectations:
The 2011 American Gold Eagle Proof Coins had an opening sales disadvantage in that their release immediately proceeded an extended holiday-weekend when buyers had other things on their mind.

Prices this year were substantially higher, ranging between $195.50 and $3,215.50 as compared to last year's $180.50 to $2,938 range.

Additionally, there was significant pent-up demand for the 2010-dated coins. Not only were they issued late in the year (October 7), but they were canceled completely in the previous year as the Mint focused on meeting the demand of sister bullion eagles instead of the collector versions. Collectors knew almost from the beginning of this year that the 2011 eagles would be available by April.
2011 American Gold Eagle Proof Coins may be ordered online through the:
U.S. Mint American Eagle Product Page
Orders may also be placed using the Mint's toll free number 1-800-USA-MINT (872-6468).
The United States Mint reviews the price of gold weekly and, if necessary, will change the prices it charges for its collector gold coins usually around noon Wednesday. Current American Gold Eagle proof prices are based on a weekly gold average of between $1,450.00 and $1,499.99. When gold fluctuates below or above this range — and the metal is currently above it, the Mint will raise or lower coin prices. Each $50 gold shift will change the one ounce Gold Eagle price by $50, the half ounce by $25, the quarter ounce by $12.50 and the tenth ounce by $5.