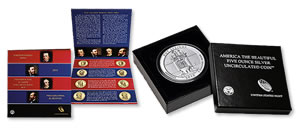 The United States Mint is having a busy series of days in closing out April. The US Mint released its most popular gold products before the extended three-day weekend — the Gold Eagle proofs, and it has four products to offer between April 25 and April 28.
2011 America the Beautiful Silver Bullion Coins – April 25
The United States Mint began accepting orders for the first two 2011-dated five ounce America the Beautiful Silver Bullion Coins on Monday, April 25. As their names suggest, the Gettysburg National Military Park Silver Bullion Coin (Pennsylvania) and Glacier National Park Silver Bullion Coin (Montana) are bullion products, and thereby sold only to US Mint authorized dealers.
It may take some time for these coins to ship to the dealers and then begin to make their way into the secondary market for investor and collector purchases. However, their much larger opening mintages of 126,500 per coin should make them more accessible as compared to each of the 2010 issues which were limited to 33,000.
As a quick recap, these National Park Silver Coins feature a three-inch diameter size, five ounces of .999 fine silver, and an encused edge of ".999 FINE SILVER 5.0 OUNCE." The obverse of each coin bears the familiar George Washington portrait while each reverse features an emblematic scene of the site being honored, which is also on the corresponding circulating America the Beautiful Quarter.
Later 2011 silver bullion products will honor Olympic National National Park in Washington, Vicksburg National Military Park in Mississippi and Chickasaw National Recreation Area in Oklahoma.
Presidential $1 Coin Uncirculated Set – April 27
The 2011 Presidential $1 Coin Uncirculated Set™ becomes available at noon ET on Wednesday, April 27, for $19.95. The collector product includes eight brilliant uncirculated $1 coins honoring Andrew Johnson, Ulysses S. Grant, Rutherford B. Hayes and James Garfield. Four of the uncirculated coins originate from the Denver Mint and four from the Philadelphia Mint. The dollars are presented in an attractive folder that includes information on each of the presidents.
These same eight coins are present in the uncirculated 2011 Mint Set which was made available on February 8 for $31.95. The 2011 Mint Set also contains uncirculated versions of the other 2011-dated coins minted for circulation, bringing the set's coin total to twenty-eight.
Hot Springs National Park Silver Uncirculated Coin – April 28
The most interesting release of the week from a collector's perspective is the debuting numismatic issue from the America the Beautiful Five Ounce Uncirculated Silver Coin series. The 2010 Hot Springs National Park Silver Uncirculated Coin will launch at noon ET on Thursday, April 28.
Unlike the bullion versions which was released through the US Mint network of dealers on December 10, the Hot Springs coin will become available through the Mint website and sold directly to anyone interested. The coin features a brilliant uncirculated finish and a Philadelphia ("P") mint mark, also unlike the companion bullion coin.
The price tag is set at $279.95, although it is possible the price could rise if silver continues its astonishing move toward a new record of above $50 an ounce. The United States Mint has set an order limit of one per household and an overall limit of 27,000.
Later 2010 five ounce uncirculated silver products will honor Yellowstone National Park in Wyoming, Yosemite National Park in California, Grand Canyon National Park in Arizona and Mount Hood National Forest in Oregon. All of these coins were produced last year and are currently held in inventory at the US Mint.
It is presumed the 2011-dated products will be available this year as well.
Ordering for the Hot Springs National Park Silver Uncirculated Coin and the Presidential $1 Coin Uncirculated Set products will be accepted at http://www.usmint.gov/catalog or at 1-800-USA-MINT (872-6468). Hearing and speech-impaired customers with TTY equipment may order at 1-888-321-MINT (6468). A shipping and handling fee of $4.95 will be added to all domestic orders.