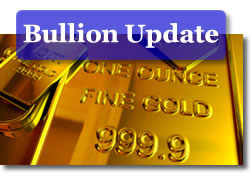 U.S. gold prices closed to their sixth straight session record on Monday while silver prices reached within inches of $50 an ounce.
Both metals, however, dipped from earlier peaks with silver retreating the most after it failed to top its 1980 record high of $50.35 an ounce.
June gold prices climbed $5.30, or 0.4 percent, to close at $1,509.10 an ounce on the Comex in New York, marking nine days of increases. Gold traded between $1,502.20 and $1,519.20.
"We do look at quite quick appreciation of gold in the coming months and it's really driven by dollar weakness," Dominic Schnider, director for wealth management research at UBS AG, said in a Bloomberg Television interview today.
Silver prices for May delivery soared $1.090, or 2.4 percent, to settle at $47.149 an ounce. But the close was substantially lower than its earlier high of $49.820. Silver prices hit a low of $45.645.
"The silver market has been showing up 'big brother' gold the past few days… The fact that the silver market has now gone parabolic does suggest the market has taken one more step in what is now a mature bull market run. This does not necessarily suggest a market top is imminent," noted Jim Wyckoff of Kitco News. "However, yet another step taken in a mature bull market run does serve as a warning signal that daily price moves in the silver market will likely remain more volatile — on the upside and on the downside — in the near term."
Platinum prices for July delivery rose $7.40, or 0.4 percent, to close at $1,828.10 an ounce. Platinum ranged from $1,811.10 to $1,844.90.
Palladium prices for June delivery declined $8.25, or 1.1 percent, to $760.80 an ounce. Palladium traded between $749.15 and $777.45.
London PM precious metals prices were not available as the United Kingdom markets were closed Monday for the holiday.
U.S. Mint bullion coin sales were unchanged from Thursday.
U.S. Mint 2011 Bullion Coin Sales
April 2011
YTD 2011
American Eagle Gold Coin (1 oz)
65,000
328,500
American Eagle Gold Coin (1/2 oz)
1,000
22,000
American Eagle Gold Coin (1/4 oz)
2,000
40,000
American Eagle Gold Coin (1/10 oz)
15,000
175,000
American Gold Buffalo Coin (1 oz)
13,500
51,500
American Eagle Silver (1 oz)
2,101,000
14,530,000