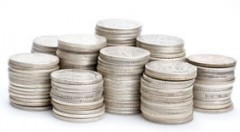 As silver prices continue to push for new 31-year highs and strive for an all-time record, silver coin values have blasted off for common coins once worth just 5, 10, 25 or 50 cents.
It is difficult to imagine that a 50-cent piece with mintages in the tens of millions is worth nearly $17, or that a worn out nickel is valued at more than $2.50. But they are, thanks to silver prices that have jumped 172 percent since the end of 2009.
Coins with 90 percent silver include dimes, quarters and half dollars that were minted before 1965. These are now worth an amazing amount of money today. For example, a Kennedy half dollar was exchanged at face value in 1964. Its melt value now is $16.73, based on the London fix price of silver Thursday at $46.26 an ounce.
Prizes are available even for collectors who bought the numismatic versions of the Eisenhower dollar which were minted in 40 percent silver between 1971 and 1976. Their values as a collector piece did not pan out for most as general interest in the coins waned, but today they are worth $14.62, far more than what the United States Mint charged its customers at the time.
The following table provides coin melt values for several coins based on the silver price of $46.26 an ounce. To learn more about each coin, click on the provided links.
Melt Values of Older Silver Coins
There are a few important things to keep in mind when looking at coin melt values. First of all, the values are purely melt based. Older coins that have special interest to coin collectors can easily command exceptional high prices. Coins that do not — the vast majority of those from the dates above — are often referred to as "junk silver coins." Also, the above figures are based on the amount of silver in the coin when it was originally struck by the United States Mint. It does not take into account any wear and tear that a coin may have received during its life, which could result in a slightly lower silver content.
Modern Silver Coin Values
While few coin collectors would consider melting modern numismatic issues like commemorative coins, their melt values have soared as well. So much so that the United States Mint currently has its only four silver sets suspended, awaiting price adjustments to better match the new level of silver prices.
The best example of rising coin values is the 2010-dated America the Beautiful Quarters Silver Proof Set. The United States Mint issued the set on May 27 for a price of $32.95. Each of the five quarters are composed of 90 percent silver, giving them a total silver weight of 0.904 ounces. Its melt value on release day was $16.70. The set today has a melt value of $41.83. That is $8.88 more than the Mint's initial price.
The following table shows how modern coin melt values have changed for United States Mint silver coins and sets between their issue date and Thursday.
Melt Values for Modern Silver Coins
Silver Coins or Set
Issue
Date
Release
Prices

Melt Values
(Issue Date)
Melt Values
(April 21)
2011 Medal of Honor Uncirculated
Feb. 25, 2011
$49.95
$25.45
$35.78
2011 Medal of Honor Proof
Feb. 25, 2011
$54.95
2011 U.S. Army Uncirculated
Jan. 31, 2011
$49.95
$21.79
2011 U.S. Army Proof
Jan. 31, 2011
$54.95
2011 Silver Proof Set
Jan. 25, 2011
$67.95
$35.88
$61.91
2011 American Silver Eagle
Jan. 3, 2011
n/a
$31.13
$46.26
2011 ATB Silver Quarters
April 1, 2011
$41.95
$34.03
$41.83
2010 ATB Silver Quarters
May 27, 2010
$32.95
$16.70
$41.83
2010 Silver Proof Set
Aug. 26, 2010
$56.95
$25.40
$61.91
(1) 2010 ATB Silver Bullion Coin
Dec. 10, 2010
n/a
$143.95
$231.30
2010 Boy Scouts Uncirculated
Mar. 23, 2010
$35.95
$12.95
$35.78
2010 Boy Scouts Proof
Mar. 23, 2010
$43.95
2010 DAV Uncirculated
Feb. 25, 2010
$35.95
$12.48
2010 DAV Proof
Feb. 25, 2010
$43.95
These coins and sets are obviously not purchased to melt down. Their true values are mostly dictated by their numismatic worth. However, secondary market prices for them fluctuate when there are large precious metal price swings.